The Department of Family Services' Domestic and Sexual Violence Services is committed to raising awareness throughout Fairfax County about domestic violence, sexual violence, stalking and human trafficking. Our outreach staff and educators provide informational presentations and trainings to various groups, including:
Community organizations and civic groups
Schools and universities
Companies and human resources professionals
Faith-based groups
Health care providers
Law enforcement and legal personnel
Non-profit partners
DSVS staff is also available to provide technical assistance and guidance in policy development about domestic violence, sexual violence, stalking and human trafficking for your community group, organization or business. For more information about our technical assistance services, please contact the Prevention and Education Coordinator by email or call 703-324-9493.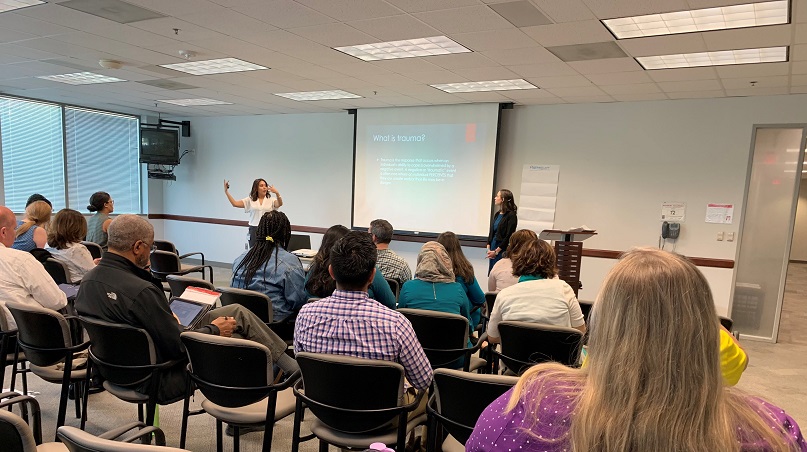 Our Community Engagement Services' Team staffs resource tables at various events, including school fairs, health fairs, public safety events, community festivals and more.
Staff are available to present on the following topics:
DSVS Programs and Services - Learn about our approach to domestic and sexual violence services, our partnerships, and the programs and services available.
Domestic Violence 101 - Learn about the dynamics of domestic violence, how to recognize the different ways violence can manifest, understand barriers to leaving abusive relationships; and how to support someone in a violent relationship.
Child Witness to DV - Learn about the effects of witnessing domestic violence across the lifespan, and its impact on children's brain development, and implications for cognitive, emotional, and physical development.  Through group discussions and video, participants will understand the needs of children and how to support them.
Parenting through Domestic Violence - This training is meant for child and family serving professionals who want to understand the impact of domestic violence on the family.  Participants in this training will gain an understanding of the ways in which domestic violence influences family dynamics while couples are together and as they separate.  Special attention will be paid to the manner in which a child's attachment to each parent is impacted, and the dilemma and challenges children face in developing relationships with both survivor and offender parents.
ACE Interface - In this training, participants will learn about the Adverse Childhood Experiences (ACE) study and the way ACEs can change our brains as we grow and develop. The impact of ACEs on physical and emotional health will be explored. We will explore the connection between domestic violence and the other forms of ACEs. Participants will gain an understanding of how they can easily contribute to creating healing and resiliency in their communities.
Supporting Parents and Children Experiencing Domestic Violence - This training is meant for child and family serving professionals who want to understand who are encountering families who experience domestic violence.  Participants will learn about the traumatic experience of domestic violence, how it impacts brain function and development and the ways in which the trauma might manifest in children's behavior.  Participants will gain tools to talk to parents about how domestic violence impacts children's development and how to address children's behavior using a trauma informed approach.   
Financial Empowerment - Learn how financial abuse happens and what you can do to protect yourself and recover from money mismanagement in relationships.
Sexual Violence 101 - Learn the definitions of sexual violence, consent and rape culture. We will discuss the barriers to reporting and the importance of having a forensic medical exam.
Healthy Sexuality - Learn how healthy sexuality helps prevent sexual violence through the 5 Circles of Healthy Sexuality.
Human Trafficking 101 - Learn to identify possible traffickers and victims, and the resources available for victims. Local and national statistics and resources will be covered.
Stalking 101 - Learn about the prevalence and dynamics of stalking, the use of technology to stalk, the lethality risks associated with stalking and how to support someone who is experiencing stalking behaviors.
The HYPE (Healthy Youth Prevention Education) Project - Learn from this youth-focused, 8-session curriculum that teaches participants about intimate partner violence and sexual assault prevention. Through hands-on activities, multimedia, role-play exercises and facilitated discussions; teens will have opportunities to examine various elements of relationships and develop skills to identify and replicate healthy dynamics in interpersonal interactions. Topics are also available as standalone workshops; the topics are the following: Teen Dating Violence 101; Why Do People Stay/Bystander Intervention; Healthy Sexuality and Sexual Assault; Gender 101: Masculinity and Femininity; Values; Self-esteem and Jealousy; Communication
Dating and Digital Violence - In this workshop, you will learn how digital violence is becoming an increasingly more prevalent form of dating violence among teens; warning signs a teen may be a target of cyber-bullying, cyber-stalking, and other forms of violence online; and ways to promote online safety among teens.
Gender, Culture and Media - Learn how to interpret the underlying messages in the media and how they affect the human psyche and our society.
Tier One - Learn about the dynamics of domestic violence, the criminal and civil justice systems that respond to those crimes, and available resources in our community. This training is designed for professionals, volunteers and community members interested in ending domestic and sexual violence in Fairfax County. The training (16 hours, over the course of two consecutive Saturdays; two eight-hour days) is free, but registration is required.