Welcome to the 2022 May issue of Volunteer Voices, a monthly newsletter for current and potential Domestic and Sexual Violence Services (DSVS) volunteers.
In this Issue:
Table of Contents

Notes from the Staff
Self-Care Corner: Quiz: Are You Practicing Good Self-Care?
Cultivating Seeds of Equity and Justice: Pronouns--Why Do They Matter? 
Volunteer Opportunity: Kendra Scott Fundraiser
Quotables

Partner Spotlight: Northern Virginia Family Services
Reviews: Phoenix Rising
Raising My Voice: Anu Vutukuri, Administrative Volunteer
Birthdays
Educational Resources
Quarterly Trainings
Make A Note!
Notes from Staff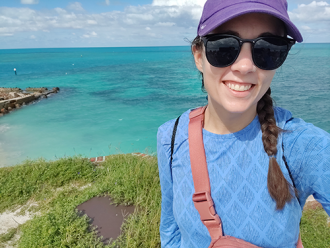 Hello, DSVS Volunteers!
My name is Kathryn Harlow. I have been a Domestic and Sexual Violence counselor with the Counseling team since January 2017. I am a licensed professional counselor and art therapist, with additional training in Eye Movement Desensitization and Reprocessing (EMDR). Within DSVS I provide individual therapy to survivors and secondary survivors of sexual violence, domestic violence, stalking, and human trafficking. I also co-facilitate our short-term support group for female and female identifying survivors of sexual trauma. 
When I am not working, I enjoy spending time with my husband, pets, family, and friends. I enjoy painting, reading, and running on the trails by my house. My husband and I recently bought a new home with a yard, so the summer of 2022 may also include trying my hand at gardening! 
Over the last five years at DSVS I have been blessed to work with amazing co-workers in an environment dedicated to positive change in our community. I have also been fortunate enough to have many amazing interactions with our volunteers. Thank you so much for your support and unwavering dedication to survivors. We could not do the work we do without you!

Kathryn Harlow
Domestic and Sexual Violence Counselor
Self-Care Corner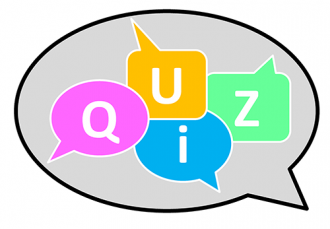 Quiz: Are You Practicing Good Self-Care?
How good are you at taking care of you? This quick quiz will give you an idea of your self-care skills. 
Cultivating Seeds of Equity and Justice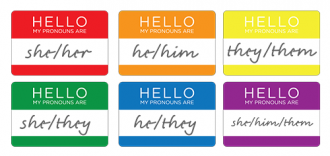 Pronouns--Why Do They Matter?
Language matters. Language is a tool that helps us convey meaning and connect. We use words to communicate, characterize, and describe everything around us. Nothing may be more personal than the words people use to refer to us through our names and pronouns, which represent key elements of our identity. 
We use pronouns and names frequently in our everyday written and verbal communication. Most of us have learned from a young age to use "she/her" for girls and "he/him" for boys. As our society has progressed in understanding gender identity, our language has also evolved. Learn how to model the use of pronouns and why this practice shows respect.
Volunteer Opportunity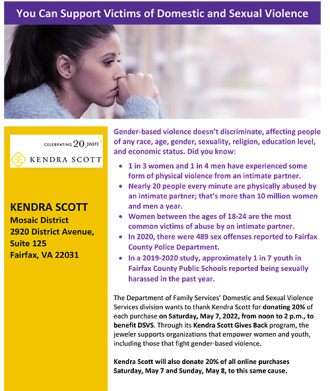 Kendra Scott Fundraiser
The Department of Family Services' Domestic and Sexual Violence Services division wants to thank Kendra Scott for donating 20% of each purchase on Saturday, May 7, 2022, from Noon-2 p.m., to benefit DSVS. Through its Kendra Scott Gives Back program, the jeweler supports organizations that empower women and youth, including those that fight gender-based violence. If you can help DSVS on May 7, contact Tanisha Cox for volunteer opportunities.
Quotables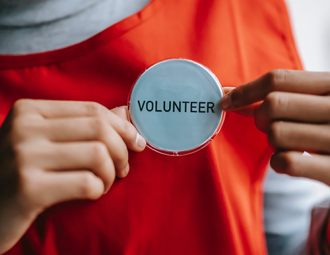 "We are all MAD* here."
*MAD=Making A Difference
---
---
Each newsletter will include this section to help share reviews, spotlight the people who support Domestic and Sexual Violence Services, recognize birthdays and list upcoming trainings and meetings.
Partner Spotlight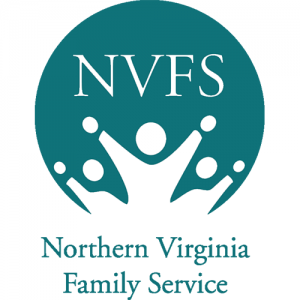 Northern Virginia Family Services Provides a (Near) Century of Support
Northern Virginia Family Services (NVFS), established in 1924 to help families in need, has expanded its services over the decades to help families become stable and self-sufficient, lifting people out of poverty to hopeful futures. Recently, Volunteer Voices sat down with Paola Sandoval-Moshenberg, director of NVFS' Multicultural Center, to talk about the nonprofit and its partnership with the Domestic Violence Action Center (DVAC). Learn more about that partnership.
Reviews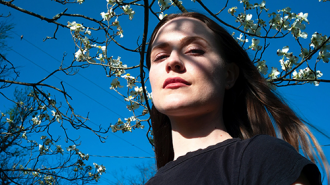 "Phoenix Rising"
Within the first 90 seconds of HBO's harrowing two-part documentary "Phoenix Rising," about the physical, emotional, and sexual abuse actress and activist Evan Rachel Wood suffered at the hands of her boyfriend, rock star Marilyn Manson, the tears come. Tears from both Wood and this reviewer, and they continued to flow throughout the course of the 155-minute runtime. 
The documentary, produced by Wood with Oscar-nominated documentary filmmaker Amy Berg, explores the beginning of Wood's relationship with Manson (real name Brian Warner), when she was depicted as a homewrecker in the tabloids and her burgeoning acting career was nearly sidetracked by drugs and steamy innuendo. In reality, Mason, 37 at the time the two became involved, used classic grooming methods on an 18-year-old. Yes, she was a (barely) legal adult, but as Wood points out, her career up to that point consisted of her playing variations on the mature and troubled teen she portrayed in the Golden Globe-winning film "Thirteen," a far cry from her homeschooled, insecure, and naive reality. Audiences saw Wood as the roles she played, not the person she is. It was a dichotomy, she says, that made her ripe for grooming. 
"Phoenix Rising" walks viewers through their tumultuous 5-year relationship, with a focus on the courage it took Wood—and several of Manson's other abused lovers who take part in the documentary—to leave him and then name him publicly, despite terrifying and continued threats from his fans.
But "Phoenix Rising" is more than a list of Manson's alleged abuses, though there were many, including isolation, threats, starvation, reproduction coercion, gaslighting, torture, and rape. It is a study of coercive control and the litany of reasons victims of domestic violence take so long to leave abusive partners. It is an infuriating look at rape culture and how our society blithely accepts it. It is cathartic when the state of California extends its statute of limitations for reporting sexual assault, largely through the efforts of Wood and other activists. It is triumphant when Wood, partially through fellowship with other survivors, starts the healing process. 
And, finally, it is incomplete. Authorities have launched an investigation into the claims against Manson, but he has, through his legal team, denied the abuse, and as of May 2022, no charges have been brought. This is, after all, a true-life trauma, and those don't end neatly tied in a bow.
This article was written by Kendra Lee, Department of Family Services communications specialist.
Raising My Voice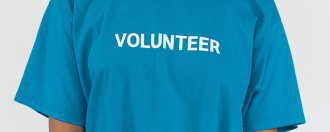 Meet Anu Vutukuri, Administrative Volunteer
"I wanted to become a volunteer because this is a cause I am very passionate about, and I am looking to make good use of the time that I have available," says Anu Vutukuri, administrative volunteer with Domestic and Sexual Violence Services. "I initially wanted to volunteer in this role to gain experience in administrative work; however, my time as an administrative volunteer has enriched my life in more ways than I expected." Read more of Anu's volunteer journey.
Birthdays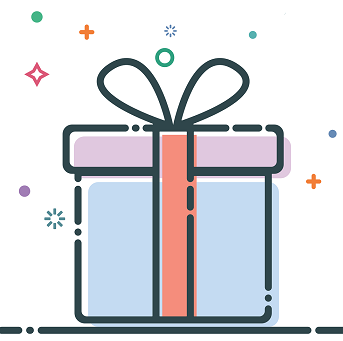 Margaret Baxter, 3
Marci Robinson, 9
Andrea Quin, 14
Amalia Rubin, 14
Anvitha Metpally, 18
Anna Fuentes, 28
Linda McMillen, 29
Kaitlin Couillard, 29
Educational Resources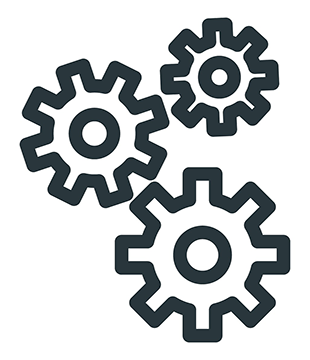 Cultural Perspective Training Series: Serving Deaf Survivors
"Choices and Challenges"
Friday, May 6, 2022
10 a.m.-Noon
This interactive presentation will demonstrate the choices and challenges faced by Deaf survivors of relationship and sexual violence when attempting to access services. Informative narration and intriguing role-play will expose participants to the multitude of unique realities experienced by cultural and linguistic minority groups. Join us to learn how to navigate the power dynamics between clients and service providers and their role in reducing trauma! DWAVE and audience members will collaborate on cultural, linguistic, developmental, and accessibility-related scenarios that pertain to Deaf populations. This workshop will focus on trauma-informed service provision with an eye for cultural humility for Deaf populations. Many of these concepts transcend Deafness and apply to various cross-cultural interactions. This training is free, but registration is required.
Cultural Perspective Training Series: Serving Deaf Survivors
"Applications for Serving Deaf Survivors"
Friday, May 13, 2022
10 a.m.-Noon
Taking a hands-on approach, participants will apply their knowledge to dig deep and analyze their role as advocates. With this newly gained knowledge, service providers will have a cultural lens to better serve Deaf survivors. In addition, we will discuss how to navigate systems that have historically oppressed community members. Participants will have opportunities to collaborate with culturally informed representatives of DWAVE to discuss their own role in an accessible organization and how to develop better practices for the Deaf community. This training is free, but registration is required.
Managing Trauma Triggers
Thursday, May 12, 2022
1-2:15 p.m.
One of the most debilitating impacts of experiencing trauma are the triggers left behind. These can range from eliciting disturbing thoughts, memories, and feelings experienced during the traumatic event to full-blown flashbacks. Triggers immediately change the body and brain functioning. This presentation will discuss how a trigger works, and how it affects the body and brain. We will also discuss how these triggers can be managed and/or modified. This training is free, but registration is required.
 
Tier Two: Working with Immigrant Survivors of Domestic and Sexual Violence Panel
Thursday, May 26, 2022
5-7 p.m.
Immigrant survivors of domestic and sexual violence often face specific barriers when escaping abusive partner and family dynamics. These challenges can include specific legal issues related to their immigration status, limited economic supports, and language and cultural barriers when accessing supportive services. These and other issues put immigrant families at higher risk of domestic violence than other populations. This training is free, but registration is required.
What kind of trainings are you interested in taking? Send your ideas to Tanisha Cox.
---
Quarterly Trainings
Thursday, May 19, 2022
6:30-8:30 p.m.
Grief & Loss: what it is and how it impacts intimate relationships.
Self-Disclosure: often well intentioned, at times can pose boundary and other concerns. When is self-disclosure harmful and when might it be helpful? Let's discuss!
Make a Note!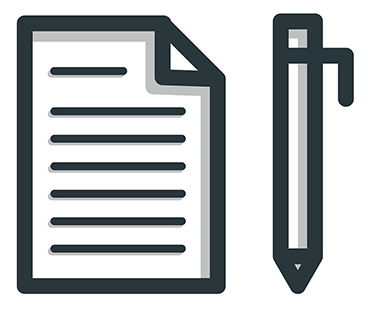 Please take a moment to log on to your Volunteer Management System (VMS) account and log your hours for the month of April. Please also log any time you spent on training under "volunteer training." If you do not see this selection under your opportunities, please email Tanisha Cox, and she will log on to add it to your account. 
Please enter your hours for each day you volunteered and not as a lump sum.

If you need to log hours for a previous month, please email Tanisha Cox to let her know so she can be aware of the entry and expedite the approval process.
---
Check out past issues of Volunteer Voices.