Meet Adrienne, DSVS Hospital Accompaniment and ADAPT volunteer!
Six Things to Know about Adrienne
1. I have worked in Fairfax County for 13 years as a probation counselor for Juvenile and Domestic Relations District Court. I have been volunteering for about 3 years.
2. I enjoy volunteering because it is a way to pay it forward and I want to assist those less fortunate than me and provide support to those in need. As for volunteering for this program, it was because I wanted to be able to support victims in need, and I saw the rise in sexual and domestic assaults on individuals, especially children.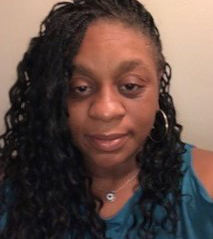 3. The most challenging part of being a volunteer is knowing you have done all you can do. It's as simple as saying you believe in someone--that is enough. My biggest concern is not being able to assist enough and failing the client.
4. The most rewarding part of volunteering is knowing I was able to support the client and provide them with services to assist them along the way.
5. I have learned volunteering is not only for the person, but for self. It helps a person to feel good and not expect anything in return.
6. Future DSVS volunteers: Be open minded and listen to the needs of the client and assist them by what they need, not what you need. It's about the client, not you!
---
This article posting is part of the Domestic and Sexual Violence Services' Volunteer Voices monthly newsletter for current and potential volunteers. If you're not already a volunteer, learn how to get involved. Find out about upcoming trainings, volunteer trainings, happenings around the DSVS office and information about articles, books, media recommendations and more.
Learn more about the Domestic and Sexual Violence Services (DSVS).