Meet Alli Somasunduram, Administrative Volunteer!
How long have you been volunteering For DSVS? 
I've been volunteering at DSVS for the past year.
Why volunteer? Why volunteer for this specific program?
I first started this to give back to the community, but realized the real reason was to be a great role model for my children. I completed my master's in criminology 25 years ago in India, so when I saw this related opportunity, I thought I would give it a try.
Talk about how you overcome the most challenging parts of volunteering.
The COVID situation has prevented me from doing more volunteering with them than I would like.
What's the best part of volunteering? Share your most memorable experience.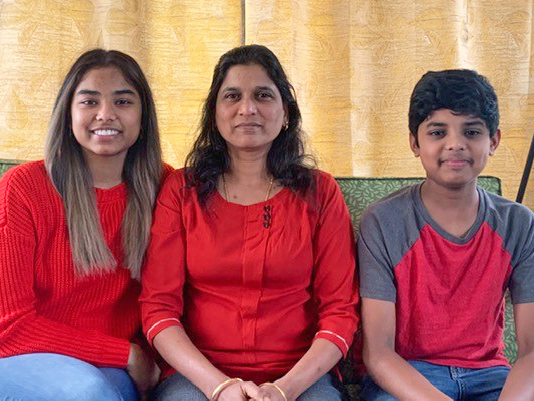 One of the best moments I had volunteering was during this past summer. I had to organize a bunch of brochures at home and my kids stepped in to help me. It was nice that they learned a little about what I do, and I could see they were interested.
What has been your favorite training? What did you like about it? What did you learn?
My favorite training was the one where I learned about the shelters for victims that Fairfax County has been serving for many years. During the training, I was amazed when I realized how many volunteers there were and all the different fields of experience.
 
What advice do you have for people who may be thinking about becoming a DSVS volunteer?
Don't hesitate to step forward and take this opportunity to volunteer. No experience is necessary for it and you learn so much. You just have to sign up for a task of your own interest and deliver. As a volunteer there are many possibilities for me to assist DSVS. Four hours per week is a good start. Then I can increase my volunteering hours based on my availability.
---
This article posting is part of the Domestic and Sexual Violence Services' Volunteer Voices monthly newsletter for current and potential volunteers. If you're not already a volunteer, learn how to get involved. Find out about upcoming trainings, volunteer trainings, happenings around the DSVS office and information about articles, books, media recommendations and more.
Learn more about the Domestic and Sexual Violence Services (DSVS).