Meet Bindi Mandava, Hotline Volunteer!
How long have you been volunteering? How long have you held this role in Fairfax County?
I have been volunteering since 2015 as a hotline volunteer for Domestic and Sexual Violence Services.
Why volunteer? Why volunteer for this specific program?
Volunteering gives you so much satisfaction by helping someone in need and connecting you to the community. During my volunteering journey, I have had the chance to empower and help many clients during a difficult phase in their lives.
I currently volunteer for the 24-hour hotline. I first heard about this volunteering opportunity when I attended the Tier One training held by Fairfax County's DV Network. I immediately felt emotionally connected to the DV situations and I felt an urge to help this community in particular.
Talk about how you overcome the most challenging parts of volunteering.
Having full time jobs and other busy stuff going around in our life, taking time to volunteer is challenging. With a strong determination to help the community, you can overcome this challenge.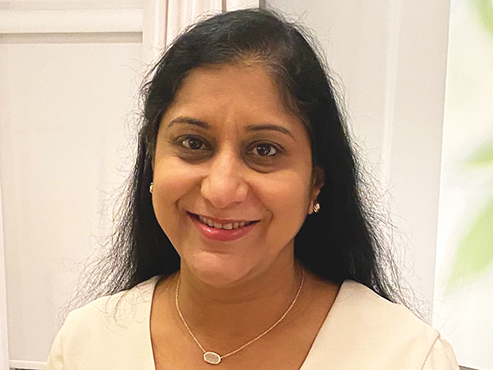 What is the best part of volunteering? Share your most memorable experience.
What I've learned through volunteering these last few years is that I'm the one who benefits the most. I've been able to learn and grow as an individual through community interactions and different experiences with clients. I was also able to make new friends and serve our community. Research says those who give support through volunteering see great health benefits by keeping more active and happier. Volunteering gives a purpose in life.
What has been your favorite training? What did you like about it? What did you learn? 
Fairfax County DV Network's Tier One training is my favorite. I was emotionally connected to so many videos and scenarios shown in this training. I learned how much DV goes on in the community and how we as an individual can help the community.
What advice do you have for people who may be thinking about becoming a DSVS volunteer?
This is a great opportunity to help to inspire someone and make a difference in someone's life.
What do you wish you could do more of as a volunteer?
I wish to spend many more hours volunteering and helping the community.
---
This article posting is part of the Domestic and Sexual Violence Services' Volunteer Voices monthly newsletter for current and potential volunteers. If you're not already a volunteer, learn how to get involved. Find out about upcoming trainings, volunteer trainings, happenings around the DSVS office and information about articles, books, media recommendations and more.
Learn more about the Domestic and Sexual Violence Services (DSVS).