The Forensic Assessment and Consultation Team, also known as the FACT Department, is a team within Inova Hospital System which provides 24-hour medical examinations, forensic evidence collection and expert interpretation for adult and child victims of domestic violence, sexual assault, child abuse, strangulation and human trafficking in Northern Virginia. 
FACT Department staff--currently 18 forensic nurses, two child pediatricians, a senior director and a billing specialist--are medical professionals with specialized training in collecting physical DNA evidence left on a patient's body by someone who sexually or physically assaulted them. They are trained to document patients' injuries through photos and written records, and to provide expert testimony in court about the evidence they collect. FACT also provides patients with sexually transmitted infections testing and treatment, emergency contraception and follow-up medical care as needed.
FACT Department staff are experts on working with patients who have experienced trauma. All FACT Department services are optional, and patients have the option to decline anything that makes them uncomfortable during their exam.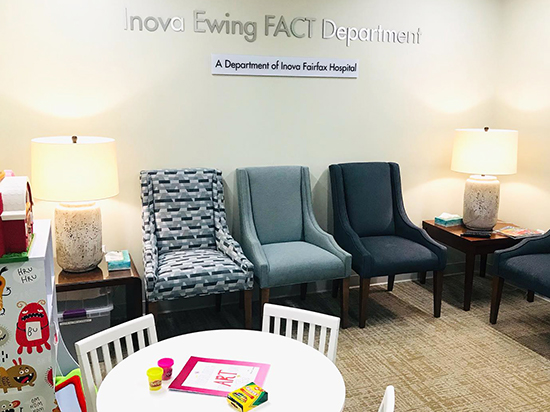 "Patients can receive an exam even if they are not sure whether they want to talk to the police, and evidence can be stored under an anonymous ID number unless they decide to move forward with a civil or criminal court case," said Abby Picard, hospital accompaniment specialist in the Domestic and Sexual Violence Services (DSVS) division.
Picard works on-site at the FACT Department, supporting patients and making referrals to follow-up services including counseling, advocacy and emergency shelter resources. It is a partnership that dates back to 2007, when domestic violence advocates from Fairfax County were first trained in collaboration with the FACT Department.
DSVS also provides support through its Hospital Accompaniment Support Advocates (HASA) volunteers program. HASA volunteers accompany patients receiving exams for sexual and domestic violence at the Inova FACT Department. These advocates provide emotional support to victims, conduct safety planning, share information regarding their rights and county services, and make referrals to DSVS services. (HASA volunteers typically provide in-person support on-site at the FACT Department, but due to COVID-19 restrictions, they are currently providing support over the phone.) And they are a vital part of the DSVS-FACT partnership.
What this department—and the volunteers that support it—does sounds complicated, but it is really quite simple: "We provide trauma-informed care based on the patients' needs," said Ariel Ward, clinical manager and forensic nurse examiner.
FACT has four locations: Inova Fairfax Hospital, Dunn Loring, Loudoun and Alexandria. DSVS advocates respond to accompaniments at the Fairfax Hospital and Dunn Loring locations. FACT also works with partner agencies to serve victims of sexual and domestic violence in Arlington, City of Alexandria, and Loudoun and Prince William counties.
Learn more about Inova FACT.
---
This article posting is part of the Domestic and Sexual Violence Services' Volunteer Voices monthly newsletter for current and potential volunteers. If you're not already a volunteer, learn how to get involved. Find out about upcoming trainings, volunteer trainings, happenings around the DSVS office and information about articles, books, media recommendations and more.
Learn more about the Domestic and Sexual Violence Services (DSVS).