ANNOUNCEMENT
Public Comment Period Open Until January 19, 2018
Due to a technical error, the public comment period has been extended until January 19. An earlier version of this page erroneously stated that the public comment period had already closed. We apologize for any confusion.
On December 11, 2017, the Park Authority held a public meeting on unmanned aircraft on County parkland. Many thanks to all who attended and shared their comments.
If you were unable to join us, please know that your feedback is still needed and welcome. Public comment will be accepted through January 19, 2018. We are seeking input on unmanned aircraft in our parks generally, and specifically on their use at the recreational field areas of Lake Fairfax and Popes Head Parks.
To provide your input, send your questions and comments to parkmail@fairfaxcounty.gov, call us at 703-324-8662, or send postage mail to: Fairfax County Park Authority, Planning and Development Division, 12055 Government Center Parkway, #406, Fairfax, VA 22035, Attention: Ryan Stewart, Project Manager.
While we always welcome your feedback, any comments received prior to Friday, January 19, 2018 at 11:59 PM will be included in the public record. We look forward to hearing from you!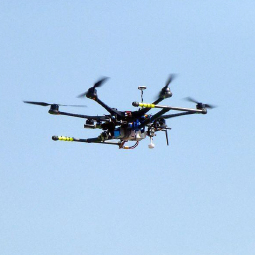 As unmanned aircraft systems ("drones") have surged in popularity, county parkland has become an in-demand location for this emerging technology. Currently, drone pilots may take off and land at Poplar Ford Park under a partnership with Northern Virginia Radio Control, a model aircraft organization.
The Park Authority undertook a study in 2017 to determine how it could provide new opportunities for drone users while ensuring public safety, protecting its lands and natural resources, and continuing to provide quality recreational experiences and programming for all park visitors.
The Park Authority is considering expanding drone use to one or two additional sites in the coming year. Sites would be operated in partnership with a qualified club or organization, with locations and schedules carefully chosen to minimize impacts to existing park activities and resources. Public input is a key part of this selection process. Parks currently under consideration are Lake Fairfax Park and Popes Head Park.
For More Information
Drone pilots are expected to abide by all applicable laws, Federal Aviation Administration requirements, and Park Authority regulations. More information for pilots can be found at:
FAA – Unmanned Aircraft Systems
For additional questions, please contact the Park Authority's Public Information Office at 703-324-8662 or parkmail@fairfaxcounty.gov
Poplar Ford Park
6704 Bull Run Post Office Road
Chantilly, VA
Hours
Flying time is daily from 9 a.m. to sunset
Radio controlled model aircraft use at Poplar Ford Park is an approved use by the Fairfax County Park Authority (FCPA). The Northern Virginia Radio Control Club (NVRC) and the FCPA share a Memorandum of Agreement (MOA) giving permission to NVRC to use this site for radio controlled model aircraft use. Anyone desiring to participate in radio controlled model aircraft use must be a member of NVRC or an invited guest in compliance with the rules of the MOA.
All users shall comply with the Field Rules or are subject to loss of the privilege of participating in radio controlled model aircraft activities. The RC model aircraft use area is closed to non-participants during hours scheduled for flying. For your own safety please keep out of the area.
A Board of Governors administers the agreement between NVRC and FCPA. The representatives are:
NVRC - Mark Franke
FCPA - Troy Miller
Citizen Representative - Hal Strickland
NVRC Safety Officer – Patrick Dunlap
Supporting Documents
FIELD ETIQUETTE AND RECOMMENDED OPERATING PROCEDURES
Each member is responsible for removing personal trash
RC model aircraft users shall use the appropriate preflight inspection and/or initial inspection checklist provided by the Sponsor prior to the first flight of the day on each aircraft to be flown
RC model aircraft users and escorted guests only are allowed on North side of the spectator fence. An escorted guest is one who is under the direct supervision of an RC model aircraft user. The guest should have been briefed by the RC model aircraft user as to proper, safe behavior, and should be acting in a responsible manner. The guest should never be at the impound area, on the flight line, walking among other pit areas unsupervised, or be inattentive to the hazards of the field
It is recommended that RC model aircraft use be done North of the runway whenever practical
Taxiways are defined at the East and West ends of the pilot area, and at the edge of the runway just North of the Foul Line. Aircraft should not be taxied in the area between the pilot line and the transmitter impound stand, nor into the pits
Takeoff should not commence from the taxiways
Runway usage should be controlled by good communications between flyers
AMA guidelines for propeller spinners or safety nuts should be followed whenever practical
Engines should not be stopped by contact with the spinner or propeller except in emergencies
Engine restarts on the runway are not recommended
Transmitters should be marked with the owner's name clearly visible
If others are waiting for the frequency pin, the maximum time allowed for engine testing/other maintenance and flight should be 15 minutes.