(Posted 2022 January)
As part of its ongoing focus on Domestic Violence Action Center (DVAC) partners, Volunteer Voices recently spoke with Rebecca Bradford, president of the board of directors of A Way Forward (AWF), about the organization's mission. She told us that A Way Forward's purpose is simple and straightforward: to help survivors of domestic and sexual violence in Fairfax County, Virginia. This is the rest of our conversation: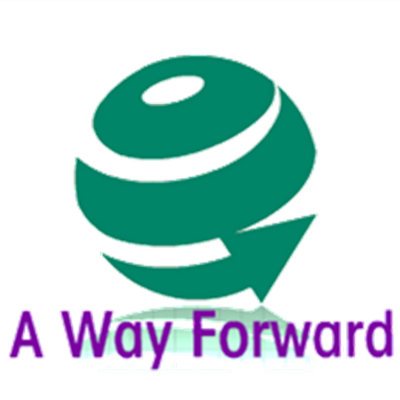 Volunteer Voices: What is A Way Forward's mission?
Rebecca Bradford: A Way Forward is a 501c(3) nonprofit organization whose primary mission is to help survivors of domestic and sexual abuse transition to safe and independent living by providing assistance for emergency services such as temporary housing, transportation, food and other basic life needs.
It was founded in 1980 and focuses on residents in Fairfax County who need assistance transitioning from domestic violence or sexual violence situations. We help with those transitions through direct client assistance. That could be rental assistance, with necessities in a new environment; help with emergency needs – emergency lock changes or security systems; help with temporary housing or hotel rooms in times of crisis. We're a very small board, just five people, and we're all volunteers. But being small helps us be very nimble in responding as quickly as possible to needs.
VV: Talk to us about the partnership between DVAC and A Way Forward.
RB: We used to be associated only with the Fairfax County Government Office for Women, a part of the Victims' Assistance Network or VAN. We were called the Friends of VAN. But when the word 'victim' became less commonly used. the name changed. To be honest, at that time, we weren't getting a lot of requests for direct client assistance.
I've been on the board almost 15 years now--board president 12 of those 15 – and we'd get maybe one request every two months. So, we reached out to Fairfax County Police Department and the shelters [to offer assistance], and at the same time DVAC was becoming established. So, we were one of the early partners. We were on the original partner list.
VV: Contrast that time with the current reality.
RB: I probably get three requests a week now. Maybe it's just more awareness. When I look at some of the requests that come through, they could be tied to the pandemic. I do see a lot of COVID-related requests. A lot of people are struggling with mental health issues. The request rate has gone up significantly in the last 24 months. I'd say the pace we get requests now is...we're really busy.
VV: What's the best thing about the partnership?
RB: Being able to be immediately a quick help with not a lot of bureaucratic processes involved. A small stipend can help in some situations. For instance, if a security system can help someone see out of the door, we'll get them a security system. Sometimes we'll pay a phone bill for someone. We're a little bit of a silent partner, but it helps us allow someone to get over that hump. For folks in these situations, a lifeline could be having a telephone available. We can make a difference with the contributions that have been made to our organization.
VV: What are the challenges of the partnership? How do you manage them?
RB: Our greatest challenge is being able to be at the partnership meetings. We're not a key cog in the system. We're glad to be on the periphery. I've been lucky that a lot of our board members have been with us almost as long as I've been here. Funding is a challenge. We're spending about three times more than what we bring in in contributions. Obviously, that's not sustainable. We can't go another two years at this rate without increasing our donation rates. 
VV: You mentioned an increase in COVID-related requests. How else has COVID affected A Way Forward's work?
RB: I do see an increase in COVID-related requests: somebody trying to transition but is out of work due to COVID or has COVID-related illnesses. Or there could just be increased security needs due to COVID. We're struggling a little with our turnaround time. All requests are made through the A Way Forward website. We triage immediately if there are imminent security issues. If there's a client in imminent danger, for instance, a lock change needs to be done, we usually respond to a request within eight hours. For a non-emergency, we're probably at a three-to-five-day pace to get through those. 
VV: What else should we know about A Way Forward? 
RB: We need a treasurer.
---
This article posting is part of the Domestic and Sexual Violence Services' Volunteer Voices monthly newsletter for current and potential volunteers. If you're not already a volunteer, learn how to get involved. Find out about upcoming trainings, volunteer trainings, happenings around the DSVS office and information about articles, books, media recommendations and more.
Learn more about the Domestic and Sexual Violence Services (DSVS).