Meet Dianna Escobar, Hotline and Outreach Volunteer!
How long have you been volunteering? How long have you held this role in Fairfax County?
More than four years.
Why volunteer? Why volunteer for this specific program?
You must have a passion for what you volunteer for. I have a strong belief that the program has changed a lot of families' and individuals' lives. I have been in the field of social services for over 30 years. I have encountered the issue regarding family domestic violence and sexual assault from individuals and families several times at all the departments for which I worked. I was always concerned and believed that everyone deserves to have a healthy relationship, feel safe in their own homes and have a great support system available for them.
What is the most challenging part of being a volunteer? What is your biggest concern?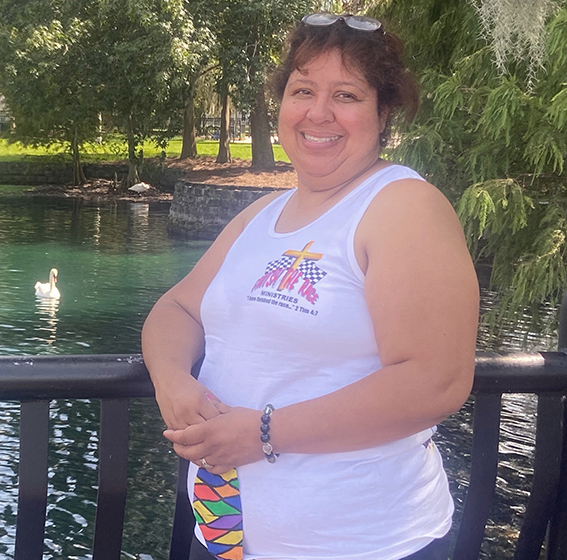 I will start with: The biggest concern is that we are not doing enough. Domestic violence is a year-round, 24-hour-a-day issue. At one time or another it is experienced by a co-worker, family member, children in school, places of faith, etc. It is still being taken lightly. I make this statement because I am also an ambassador for the program, and when I request assistance from some organizations to help bring awareness to the communities, some are very reluctant to help. Imagine if we could place a flier on every store, restaurant, faith organization, etc. We would be able to help lots more people.
My biggest challenge is knowing that even when I am on the Domestic and Sexual Violence Hotline, and someone takes that first step to call, the uncertainty of what situation they are facing or experienced does not mean they are ready to stop the cycle of violence. As a hotline volunteer, our mind wants to say, "why don't you …," but our words are the opposite. I cannot tell anyone what to do; they mut be ready at their own terms and time to accept all the services offered.
What is the most rewarding?
The most rewarding part is being on the hotline and taking that call, which can mean life or death and freedom or imprisonment.
What have you learned while volunteering—about volunteering in general, about DSVS, about yourself?
I am an observant listener. I pay attention to cues and tones of voice, and make the caller feel safe, which allows them to tell their story first.
What advice do you have for people who may be thinking about becoming a DSVS volunteer?
You must have patience, not be judgmental, have a strong kind ear, and take all the necessary trainings. Before you really volunteer, just think that a caller can be an old school friend, family member, or even you. How would I want someone to be on the other line for them or for me when I make that call?
---
This article posting is part of the Domestic and Sexual Violence Services' Volunteer Voices monthly newsletter for current and potential volunteers. If you're not already a volunteer, learn how to get involved. Find out about upcoming trainings, volunteer trainings, happenings around the DSVS office and information about articles, books, media recommendations and more.
Learn more about the Domestic and Sexual Violence Services (DSVS).