Meet Norma Williamson, ADAPT Facilitator Volunteer!
How long have you been volunteering? How long have you held this role in Fairfax County?
My first volunteer job in Fairfax County was 40 years ago at my children's elementary school. But my longest lasting role has been as a facilitator with ADAPT, which was called the Men's Program when I joined in 1996. 
Why volunteer? Why volunteer for this specific program?
Giving of our time to help others enriches our own lives. I joined ADAPT the year I completed an MS in conflict analysis and resolution at George Mason University; ADAPT was a perfect fit for my interests. My husband and I facilitated groups together for many years; we enjoyed it—and it strengthened our own marriage!
Talk about how you overcome the most challenging parts of volunteering.
One of the challenges of being a volunteer can be burnout. With ADAPT, one commits to an 18-week program and then can take a break, so burnout is not as likely to be an issue.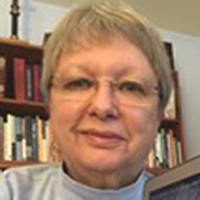 What's the best part of volunteering? Share your most memorable experience.
It is a joy to work with terrific staff members on a program that makes a huge difference in people's lives. I will never forget the time, many years ago, when my husband and I ran into a former client near our home; respecting confidentiality, we did not say anything to him. But first he blurted out: "You are the ones who saved my marriage." That made our day!
What has been your favorite training? What did you like about it? What did you learn?
Training sessions that address cultural differences have always been favorites. I always appreciate the opportunity to be with fellow volunteers and to share experiences with them at training sessions, no matter the topic. 
What advice do you have for people who may be thinking about becoming a DSVS volunteer?
The staff members I have worked with have all been wonderful at letting me participate in many different ways. My advice to potential volunteers? Just do it!  You will not regret it, even now in COVID time.    
---
This article posting is part of the Domestic and Sexual Violence Services' Volunteer Voices monthly newsletter for current and potential volunteers. If you're not already a volunteer, learn how to get involved. Find out about upcoming trainings, volunteer trainings, happenings around the DSVS office and information about articles, books, media recommendations and more.
Learn more about the Domestic and Sexual Violence Services (DSVS).