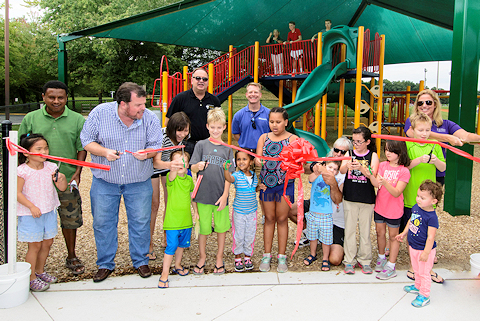 A ribbon-cutting ceremony was held at the new playground at South Run District Park on Saturday, September 16, 2017 to mark completion of the new playground in Springfield, VA.  
The park's old playground was demolished to make way for a new play area that features a playground, tot lots, sun shading and an upgraded ADA accessible route. As part of the playground and tot lot replacement, sidewalks through and adjacent to the playground were upgraded and shades over each play area were replaced. The $420,000 project also included a timber border, safety surfacing, drainage, benches and fencing. Work was funded through the 2012 Park Authority Bond.
Pictured from left to right are Mike Thompson, Park Authority Board Secretary and Springfield District Representative; Dave Bowden, Director, Park Authority Planning & Development; Dave Fallert, Manager, South Run RECenter; and Sara Baldwin, Acting Executive Director, Park Authority. They are joined by children and parents celebrating the new playground.
See more photos at: https://www.flickr.com/photos/ffxparks/albums/72157685383892382
Reference ID
20170921-ctl20