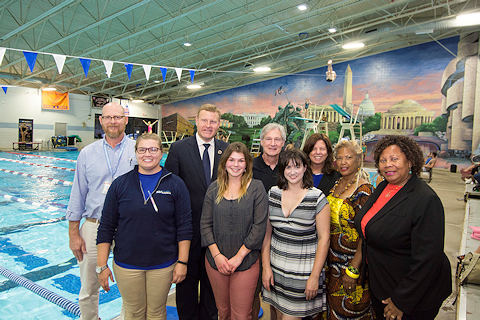 A new mural at the Lee District RECenter natatorium was officially unveiled on Thursday, September 28, 2017. This sweeping mural shows the grandeur of the nation's Capital and pays homage to veterans.
Artist Tim Grant painted this mural during the RECenter's summer 2017 maintenance closure. His work can be found in parks throughout Fairfax County. Mr. Grant is an avid outdoorsman and says "I want my kids to inherit a healthy earth and be able to experience our country the way that I have:  from the smallest details to the most stunning vistas - a breathtaking source of unlimited inspiration."
Pictured from left to right are Dan Peters, Manager, Lee District RECenter; Tammy Yelmgren, Aquatics Assistant Supervisor, Lee District RECenter; Amy Kellett, artist's family member; Jeff McKay, Board of Supervisors, Lee District Representative; Tim Grant, Artist; Keeka Grant, artist's family member; Aimee Vosper, Deputy Director, Fairfax County Park Authority; Carolyn Banks, Community Advocate; and Dr. Cynthia Jacobs Carter, Park Authority Board, Lee District Representative.
See more photos at: https://www.flickr.com/photos/ffxparks/albums/72157687247826164 
Reference ID
20170929-ctl21