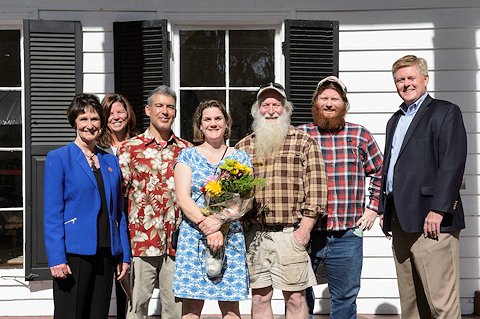 On, Saturday, October 21, 2017, Historic Oak Hill in Annandale opened its doors to the public for its annual Open House.  Members of the Fairfax County Board of Supervisors and the Fairfax County Park Authority welcomed new owners Joe and Laura Braceland to the neighborhood presenting them with a copy of the "Taste of Braddock" book and flowers.
Oak Hill is an 18th-century Georgian-style mansion, and it is all that remains of the Ravensworth Tract that dates back to the 1670s and once totaled more than 22,000 acres. Today, the home is privately owned but protected through an historic easement requiring that the property and its grounds be open to the public each year.
Pictured left to right: Sharon Bulova, Chairman, Fairfax County Board of Supervisors; Aimee Vosper, Deputy Director, Fairfax County Park Authority; Joe and Laura Braceland, current Oak Hill owners; Scott and Dakota Springston, descendants of William Fitzhugh, the Immigrant (original owner of the Ravensworth Tract); Supervisor John Cook, Braddock District Representative, Fairfax County Board of Supervisors. 
See more photos at: https://www.flickr.com/photos/ffxparks/albums/72157665410572009
Reference ID
20171025-ctl25