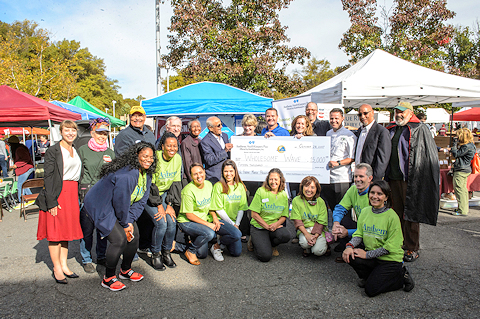 On, Saturday, October 28, 2017, Virginia First Lady Dorothy McAuliffe was on hand at the Reston Farmers Market as Anthem Blue Cross and Blue Shield (Anthem) President Patrick Sturdivant presented a $15,000 check to the Wholesome Wave "VA Fresh Match Program." Anthem staff also volunteered at the market by assisting with setup, packing and loading food and helping with family activities such as pumpkin painting. 
Wholesome Wave is a chef-founded national non-profit that has perfected and championed "nutrition incentives" for the past 10 years. The VA Fresh Match Program is a statewide network of 60 farmers markets that double the value of SNAP, up to $20, when spent on fresh fruits and vegetables. This helps SNAP shoppers afford healthy choices while increasing sales for local farmers and keeping funds in the area economy. The $15,000 will be doubled by the US Department of Agriculture.
The Reston Farmers Market is one of 11 farmers markets operated by volunteers on behalf of the Fairfax County Park Authority. By providing access to locally grown foods, Fairfax County's farmers market program strives to improve the health of Fairfax County citizens, support local food producers, and protect the environment.
Pictured left to right:
(Back Row): Chelsea Roseberry, Farmers Market Coordinator, Fairfax County Park Authority; Fran Lovaas, Reston Market Manager;Bill Bouie, Chairman, Park Authority Board; Kenneth Plum, Virginia House of Delegates, 36th District; Hunter Mill District Supervisor Cathy Hudgins, Fairfax County Board of Supervisors; Dr. Sonny Ramaswamy, Director, USDA National Institute for Food and Agriculture;Janet Howell, Virginia Senate, 32nd District; Patrick Sturdivant, President, Anthem HealthKeepers Plus; Dorothy McAuliffe, Virginia First Lady; Michel Nischan, Founder & CEO, Wholesame Wave; Cathal Armstrong, Chef, Restaurant Eve; Rodney Taylor, Nutrition Director, Fairfax County Public Schools; John Lovaas, Reston Market Manager.
(Front Row): Anthem staff and volunteers
See more photos at: https://www.flickr.com/photos/ffxparks/albums/72157690056762456
Reference ID
20171031-ctl26