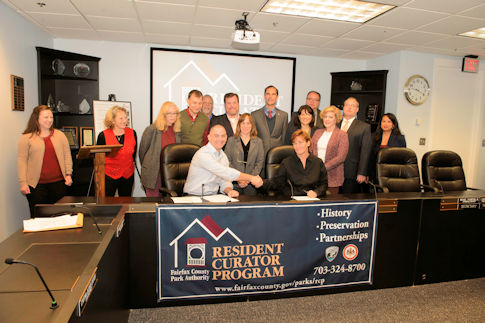 On Tuesday, December 5, 2017, the Fairfax County Park Authority signed a lease with Stephen McCullough as part of the new Resident Curator Program. McCullough will now serve as the Resident Curator of historic Stempson House in Lorton, Virginia.
Under the program, a curator is selected to live in a historic Fairfax County property rent-free in exchange for rehabilitating the house and allowing public access. As required by the state legislation, lease agreements are required between the Park Board and Board of Supervisors, as well as the potential curator. Those approvals set in motion the right to rehabilitate the properties.
Steven McCullough was selected as the Resident Curator for the Stempson House after submitting an application in March 2017. The public is invited to follow renovation progress on McCullough's blog.
Pictured standing (L-R): Margaret Puglisi, Heritage Resource Technician, Park Authority; Jo Gilbert, Investment Manager, Fairfax County Department of Finance; Dr. Liz Crowell, Manager of Archaeology and Collections, Park Authority; David Buchta, Historic Conservation Branch Manager, Park Authority; Leonard Clark, Insurance Manager, Fairfax County Department of Finance; Mike Thompson, Springfield Representative, Park Authority Board; Denice Dressel, Heritage Resource Planner, Park Authority; Daniel Storck, Mount Vernon Representative, Fairfax County Board of Supervisors; Cyndi McNeal, Project Coordinator, Park Authority Planning & Development; Dave Bowden, Director, Park Authority Planning & Development; Janet Burns, Fiscal Administrator, Park Authority; Mike Lambert, Assistant Director, Fairfax County Facilities Management; Michelle Meadows, Senior Right-of-Way Agent, Park Authority Planning & Development.
Seated (L-R): Steven McCullough, Stempson House Resident Curator; Cindy Walsh, Acting Deputy Director/Chief Operating Officer, Fairfax County Park Authority.
See more photos at:https://www.flickr.com/photos/ffxparks/albums/72157663350141008