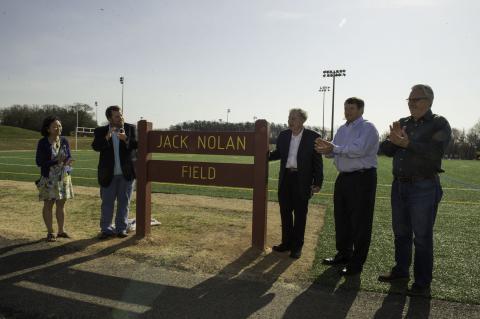 On Saturday, April 14, 2018, the Fairfax County Park Authority renamed South Run District Park Athletic Field #5 in honor of Jack Nolan, a longtime coach, leader and advocate of youth soccer in the Springfield District. In the late 1970s and early 1980s, Mr. Nolan served as a coach for several soccer teams in the Springfield Youth Club (SYC). His success on the field led to leadership roles with SYC, the Fairfax County Soccer Council and the Athletic Council. He was instrumental in the development of a rectangular field allocation policy.
Pictured in the photo, from left to right: Delegate Kathy Tran, Virginia House of Delegates; Michael Thompson, Fairfax County Park Authority Board, Braddock District Representative; Jack Nolan, Honoree; Pat Herrity, Braddock District Supervisor; and Kirk Kincannon, Executive Director, Fairfax County Park Authority Executive Director.
Media Note: Click image to download
See more photos at https://www.flickr.com/photos/ffxparks/albums/72157667906535368.