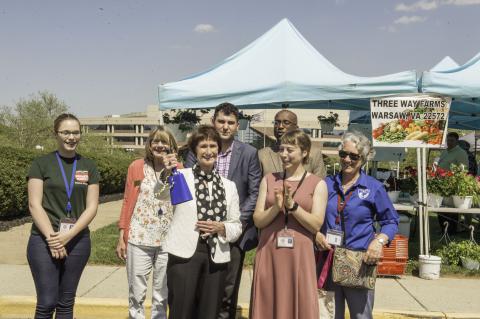 On Thursday, May 3, 2018, County leaders gathered to celebrate the opening of the Government Center Farmers Market in Fairfax, Virginia. Fairfax County Board of Supervisors Chairman Sharon Bulova rang the bell to mark the market's official opening at its new location in the grassy median near the entrance to the Fairfax County Government Center. The Government Center market is open Thursdays through October 25 from 2:30 to 7 p.m. The only exception is June 7, to allow for Celebrate Fairfax set up.
Pictured in the photo, from left to right: Lindsey Martin, Government Center Market Manager; Margaret Thaxton, Director of Development, Fairfax County Park Foundation; Sharon Bulova, Chairman, Fairfax County Board of Supervisors; Kiel Stone, Braddock District Rep, Park Authority Board; Bryan Hill, Fairfax County Executive; Chelsea Roseberry, Farmers Market Coordinator, Park Authority; and Mary Olien, Resource Management Division Operations Manager, Park Authority.
Media Note: Click image to download.
See more photos at: https://www.flickr.com/photos/ffxparks/albums/72157668702467868