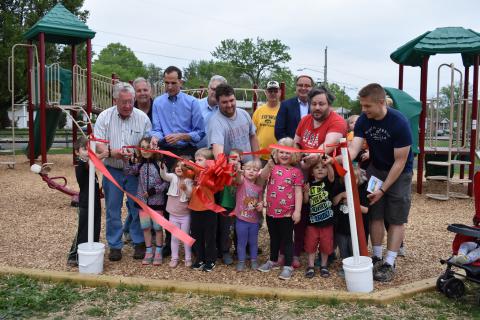 A ribbon-cutting ceremony was held on Sunday, May 6, 2018 for the new playground at Bucknell Manor Park in Alexandria, Va.
Bucknell Manor Park now features two play areas to appeal to children of different ages. In addition to the play structures, the facility includes new borders, subsurface drainage, child safety fencing and an asphalt trail – all designed to meet ADA standards. The $100,000 project was financed through the 2016 Park Bond as part of a plan to install new playground equipment at aging parks to bring them into compliance with today's safety and ADA standards.
Members of the community, both young and old, were joined by (left to right, in back): Linwood Gorham, Park Authority Board Rep, Mount Vernon District; Philip Hager, Park Authority Area Manager; Daniel Storck, Board of Supervisors, Mount Vernon District; Kirk Kincannon, Park Authority Executive Director; Dave Bowden, Director of Planning & Development, Park Authority.
Media Note: Click image to download.
See more photos at: https://www.flickr.com/photos/ffxparks/albums/72157696546366665