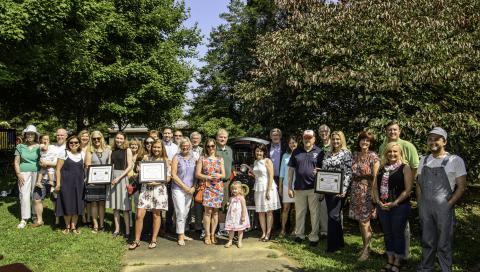 The Fairfax County Board of Supervisors, the Fairfax County Park Authority Board, the Fairfax County Park Foundation (FCPF) and members of the McLean community gathered on July 28, 2018 for the "inaugural" ride on a new trackless train at Clemyjontri Park, as well as a ribbon cutting for a new picnic pavilion. The celebration noted the funding and support from community organizations and individuals.
This popular park in McLean, VA hosts more than 80,000 visitors each year who come to enjoy the fully accessible features which include an enormous playground, carousel, swings and now these new amenities as well. Everything is designed to enable children of all ability to play side-by-side. Friends of Clemyjontri Park funded the new trackless train and a forthcoming "train station." The new picnic celebration pavilion was made possible thanks to contributions from McLean Community Foundation, Rotary Club of McLean, and the Friends of Clemyjontri Park. Other contributors include Amy and Jeff Sonderman, and the friends and family of Sue Rowell, a longtime contributor to the park. Partnership recognition was also extended to McLean Project for the Arts (MPA) and Wheat's (park landscaping).
Pictured from left to right near the new train are: Jan Auerbach, Treasurer, Rotary Club of McLean; Ryan McElveen, Member, Fairfax County Public School Board and daughter; Deb Bissen, Director of Community Outreach, McLean Project for the Arts (MPA); Bobbi Longworth, Executive Director, FCPF; Nancy Sausser, Exhibitions Director, MPA; Christina Girardi, Artist/Education Programs Director, MPA; Margaret Thaxton, Director of Development, FCPF; Debbie Frank; Patrick Frank; Madison Frank; Jeff Sonderman; David Hyman; Janet Tysse, President, McLean Community Foundation; Gene Durman, President, Rotary Club of McLean; Amy Sonderman, Board Director, FCPF and daughter; John Osborn, Board Chair, FCPF; Barbara Favola, Virginia State Senator; John Foust, Dranesville District Supervisor; Aimee Burgoyne, Board Member, McLean Community Foundation; Dan Clemente, Board Member, Friends of Clemyjontri; Tim Hackman, Dranesville District Rep., Park Authority Board; Rachel Georgelas, President, Friends of Clemyjontri; Amy Brennan Swaak, MPAartfest Director; Derrick Swaak, Board Chair, MPA; Lisa Rowell and Andrew Edelman, Manager, Clemyjontri Park.
Clemyjontri Park is located at 6317 Georgetown Pike in McLean, VA. For more information visit online at Clemyjontri Park.
Media Note: Click photo to download