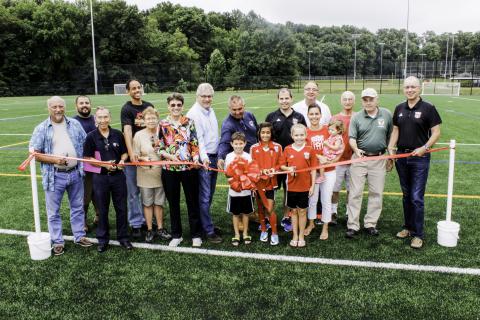 On Saturday, September 8, 2018, the Fairfax County Park Authority cut the ribbon on a newly renovated synthetic turf field at Nottoway Park in Vienna, Va. Local officials and field users gathered to celebrate the completion of Field #4.
This field was closed this past spring to allow for the reorientation and enlargement of the rectangular field. This multi-sports field is now 360' by 220' and can be used for field hockey, football, boys and girls lacrosse and soccer. The $1.7 million project also included the installation of a synthetic turf surface, storm drainage, storm water management facilities and LED sports lighting.
Pictured from left to right are: Members of the public and Area 1 Maintenance Crew Members along with David Pedersen; Park Authority Board Member Ken Quincy; Area Manager Russell Arrington; Vivian Morgan Mendez, Friends of Nottoway Park; Providence District Supervisor Linda Smyth; Park Authority Executive Director Kirk Kincannon; Nottoway field users Madeline Seminaro, Noor Chaudhury and Max Seminaro; Michael Seminaro, Vienna Youth Soccer (VYS) Treasurer; Dave Bowden, Director, FCPA Park Planning and Development; Fernando Mendez, Friends of Nottoway Park; Park Volunteer John Hopkins; and Robert Lesjack, VYS President.
Media Note: Click photo to download
See more photos at: https://www.flickr.com/photos/ffxparks/albums/72157701481402595