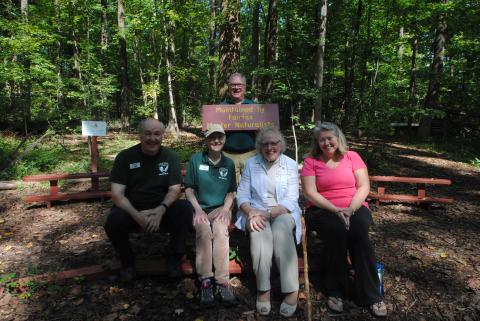 On Saturday, September 29, 2018, Hidden Oaks Nature Center marked the 10th anniversary of Nature Playce and the park's limited impact development (LID) parking lot with a free, three-hour celebration.  Nature Playce is a one-third acre, unstructured, woodland play area near the Hidden Oaks Nature Center. The nature center's LID parking lot was redeveloped a decade ago to make it environmentally effective. Instead of creating runoff, the lot guides rain water through pavers and pipes and into a bio-mesh filtered rain garden where potential pollutants are siphoned.
The celebration honored community groups, including Fairfax Master Naturalists, Kiwanis Club, Girl Scouts, Boy Scouts of America Eagle Scouts. The boy scouts have contributed to the building and enhancement of Nature Playce for the past 10 years. The Fairfax Master Naturalists were recognized for their adoption of a native plant garden at Hidden Oaks Nature Center in Annandale Community Park as well as their many other contributions to Fairfax County Park Authority, its residents and visitors.
Pictured (left to right) are Kevin Holland, Fairfax Master Naturalist and Hidden Oaks Nature Center (HONC) volunteer; Marilyn Schroeder, Fairfax Master Naturalist, HONC volunteer and 2018 Elly Doyle Park Service Award Recipient; Michael McDonnell, HONC Manager, Fairfax County Park Authority; Penny Gross, Fairfax County Board of Supervisors, Mason District Representative; and Mimi Friedman, Fairfax Master Naturalist. 
Media Note: Click photo to download