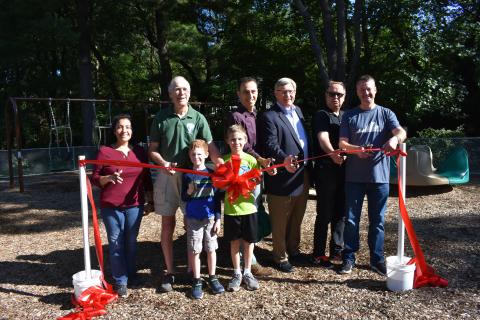 On Saturday, September 29, 2018, the Fairfax County Park Authority celebrated the opening of the Griffith Park playground in Falls Church, Virginia.
Funded via voter-approved 2016 park bonds, the $80,000 project replaced outdated equipment with new play elements, interactive panels and swings for children ages 2 to 12. Safety surfacing and playground borders were also replaced and a new drainage system and fence installed. The project was part of a larger effort by the Park Authority to identify and replace playground equipment throughout Fairfax County that has exceeded its useful life.
Pictured left to right are Isabel Villarroel, Project Manager, Park Authority; Tim Hackman, Dranesville Rep, Park Authority Board; Finn Niemira, age 11; Ian Niemira, age 12; Delegate Marcus Simon, Virginia House of Delegates; John Foust, Dranesville Rep, Fairfax County Board of Supervisors; Dave Bowden, Director of Park Planning and Development, Fairfax County Park Authority; and Bob Heilen, Vice President, Pimmit Hills Citizens Association.
Media Note: Click photo to download   
See more photos at: https://www.flickr.com/photos/ffxparks/albums/72157698789329802