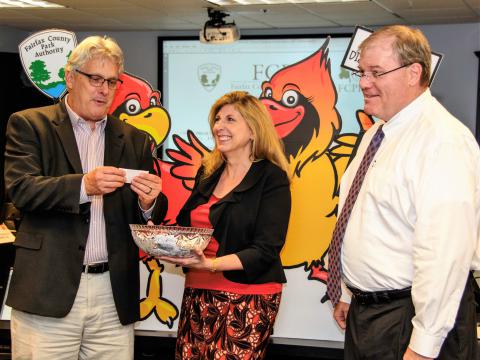 Park lovers from infants to octogenarians participated in this year's Fairfax County Park Authority Discovery Trail Map summer activity, and four lucky visitors whose names were selected in a trail-ending drawing will soon receive a new bicycle and safety helmet donated by Spokes, Etc. and Trek through the Fairfax County Park Foundation.  The winning entries were selected by Fairfax County Park Authority Executive Director Kirk Kincannon and Park Foundation Board Chair John Osborne. The winners are Mati Lamb, 2, of Burke; Hyorin Choi, 9, of Vienna; Paula Reyes, 17, of Falls Church and the adult winner, Sharlene Ash of Alexandria.  The winners were among more than 1,300 people who qualified for the drawing by visiting eight of the twelve featured sites on this year's Discovery Trail Map.  The winners will be presented their grand prizes at the Spokes, Etc. Fairfax location later this month.
This year's animal-themed Discovery Trail Map led to more than 20,000 park visits, a 38 percent increase in the number of park visits stemming from the 2017 map. Though only four bicycle grand prizes were awarded, all participants who visited at least eight featured park sites received a prize packet valued at $93, which included tickets to park amusements such as camping, mini-golf and boat, train and carousel rides. 
(From left to right) Park Authority Director Kirk Kincannon and Park Foundation Board Chair John Osborn take turns selecting winning entries in the 2018 Discovery Trail Map bicycle drawing while Foundation Executive Director Roberta Longworth assists. The drawing took place on September 18, 2018.
Media Note: Click photo to download