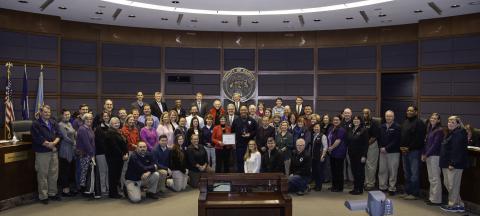 The Fairfax County Board of Supervisors honored the Fairfax County Park Authority at its meeting on Wednesday, December 4, 2018, for its re-accreditation by the Commission for Accreditation of Park and Recreation Agencies (CAPRA). Becoming accredited is one of the highest benchmarks of excellence that an agency can attain.
Park and recreation agencies across the United States turn to CAPRA Accreditation as a credible and efficient means of achieving their goals of providing high quality services and experiences. Accreditation also provides assurance to the public that an agency meets national standards of best practice.
This is the Park Authority's third accreditation by CAPRA. The agency achieved its re-accreditation in 2018 by meeting all 151 national standards set by CAPRA.
Pictured are members of the Board of Supervisors and Park Board, and Park Authority staff.
For more information about the Park Authority, visit online at Parks.
Media Note: Click photo to download
See more photos at: https://www.flickr.com/photos/ffxparks/albums/72157704324618305