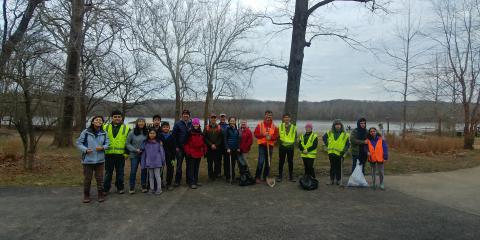 Twenty-one volunteers offered their time and energy to the Fairfax County Park Authority on Thursday, January 3, 2019, to provide much-needed help restoring trails at Riverbend Park.
The park's trails took a beating in late 2018 from heavy rains that caused flooding and forced some closures. Riverbend scheduled a two-hour Trail Work Day on January 3, and volunteers worked with park staff to help clear away debris, move dirt and restore hard-hit trails. The popular Potomac Heritage Trail is still muddy, but the upriver section is now open.
Pictured are some of the volunteers who provided trail work at Riverbend Park.
For more information about the Park Authority, visit online at Parks.
Media Note: Click photo to download