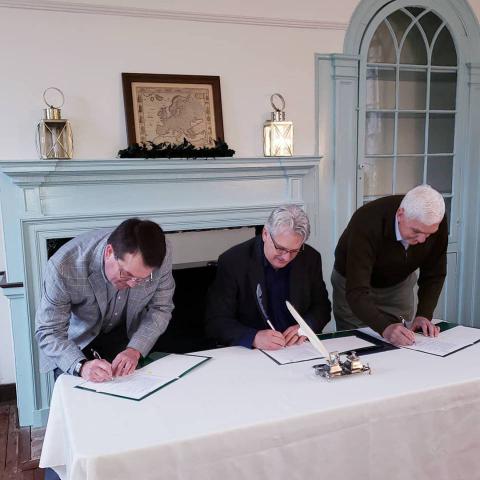 The Fairfax County Park Authority (FCPA) and the Friends of Colvin Run Mill (FOCRM) signed a Memorandum of Understanding (MOU) on Tuesday, January 8, 2019, to govern the group's efforts at the historic mill in Great Falls, Virginia. The document was signed with a quill at the 1810 miller's house.
FOCRM is a non-profit organization that provides financial and volunteer support for programs and activities at Colvin Run Mill. Among its many activities, the group has paid for and developed new interactive tour tablets, purchased barrels for the mill and funded popular programs such as Santa at the Mill.
An MOU establishes a framework for a productive working relationship between organizations in order for mutual support to continue and prosper. Friends Group MOUs cover issues ranging from services offered to finances to governance and administration.
Pictured are (left to right): Colvin Run Mill Manager Mike Henry, Fairfax County Park Authority Director Kirk Kincannon, and Friends of Colvin Run Mill President Gene Bacher.
For more information about the Park Authority, visit online at Parks.
Media Note: Click photo to download