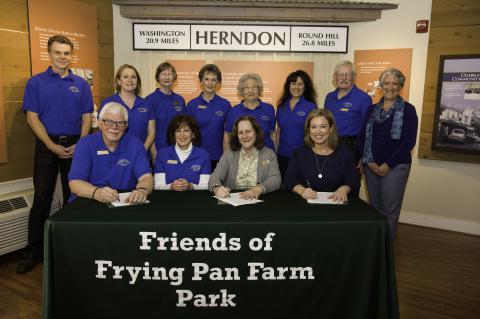 The Fairfax County Park Authority (FCPA) and the Friends of Frying Pan Farm Park signed a Memorandum of Understanding (MOU) on Thursday, February 21, 2019, to help guide the group's efforts at the farm in Herndon, Virginia. The signing took place in the park's visitors' center.
The Friends of Frying Pan Farm Park is a non-profit organization that provides significant financial and volunteer support for programs and activities at Frying Pan Farm Park. The group has held and supported numerous events, such as Spring Farm Day, Farm Harvest Day, the concert series and the annual 4-H Fair. The Friends of Frying Pan Farm Park financially support the park in many ways, providing veterinary care and feed for the animals, crops for interpretation and supporting equestrian activities through fundraising horse shows and programs.
An MOU establishes a framework for a productive working relationship between organizations in order for mutual support to continue and prosper. Friends group MOUs cover issues ranging from services offered to finances, governance and administration.
The Fairfax County Park Authority and the Friends of Frying Pan continue to work together to preserve this community landmark and allow neighbors to enjoy activities at the site. Pictured at the recent signing are, seated at the table from left to right: Jack Pitzer, President, Friends of Frying Pan Farm Park; Ann Marlow, Vice-President; Yvonne Johnson, Frying Pan Farm Park Manager; and Sara Baldwin, Deputy Director, FCPA. Back row from left to right are: David Walters, Board Member; Nicole Stroud, Treasurer; Betty Holman, Board Member; Margaret Wergley, Board Member; Marion Scaffidi, Secretary; Anne Pearson, Board Member; Dick Hoffmann, Board Member; and Mary Olien, Park Management Specialist, Resource Management Division, FCPA.
Media Note: Click photo to download