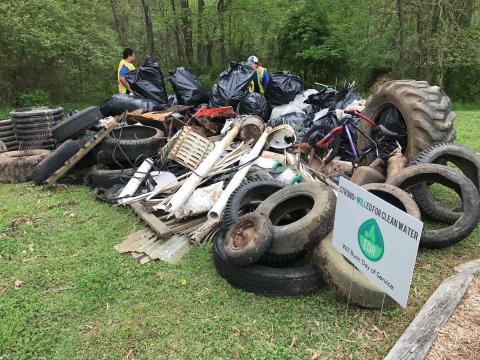 Thirteen employees from Environmental Quality Resources (EQR), LLC turned out on Friday, April 19, 2019, to provide volunteer cleanup services at Martin Luther King, Jr. Park on Fordson Road in Alexandria, Virginia and Wickford Park on Wickford Drive, also in Alexandria. In cooperation with the Fairfax County Park Authority and the Department of Public Works and Environmental Services (DPWES), the EQR workers donated 65 hours of service and collected piles of trash and tires from the park.
"The Park Authority is very fortunate to have a good partner in DPWES-UDCD and exposure to a talented and generous contractor like EQR," said Yudhie Brownson, the Park Authority's project manager for the cleanup. "We are certainly appreciative of all the volunteers' time and efforts, truly awesome work out there!"
EQR's annual day of service is dedicated to friend and colleague Will Bunn. EQR describes Bunn as "a valuable employee whose passion and dedication for the environment runs through the 18 stream restoration projects he worked on so hard during his time at EQR."
For more information about the Park Authority, visit online at Parks.
Media Note: Click photo to download