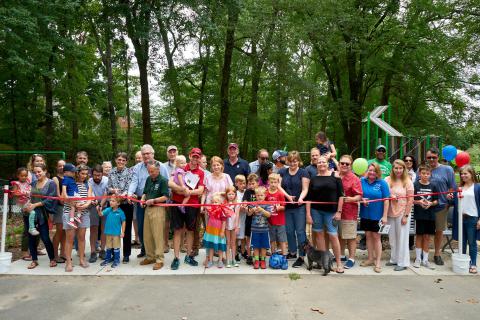 Members of the community, local elected officials, and representatives from the Park Authority gathered in celebration this past Saturday at Azalea Park in Falls Church.  This small, neighborhood park has been fully redesigned and, with the collaboration and cooperation of neighbors, has become a wonderful place to play, spend time with family and friends and enjoy being outdoors.  The park now features new play equipment for all age groups, adult exercise equipment, seating areas, picnic tables, and landscaping featuring the parks' namesake azaleas.
The Park Authority worked closely with the Greater Hillwood Citizens Association to plan the improvements for the park, and the planning and construction process was completed within one year.  As part of the process, residents formed a volunteer group to provide enhanced maintenance of the park's landscaping. 
Cunningham Recreation, Custom Park Solutions and Denison Landscaping provided services for the project, which had a total cost of $176,500, funded via proffers. 
Pictured are members of the community and the Park Authority project team as well as Alex Strong, President of the Greater Hillwood Citizens Association; Providence District Supervisor Linda Smyth, Fairfax County Board of Supervisors; Kirk Kincannon, Executive Director, Fairfax County Park Authority; Ken Quincy, Providence Representative, Park Authority Board; Adam Wynn, project manager, Park Authority; Julie Guzzo, co-chair, Azalea Park Steering Committee; Paul Shirey, Park Planning Division and David Bowden, director, Park Planning Division.
Media Note: Click photo to download
See more photos at: https://www.flickr.com/photos/ffxparks/albums/72157710885348161