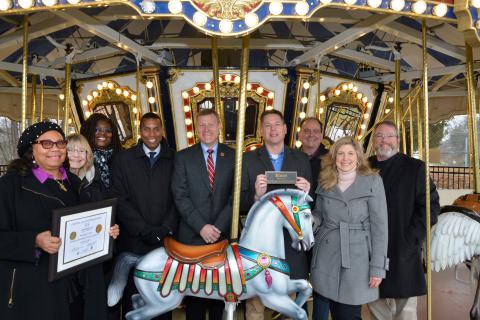 Lee District community leaders recently honored Transurban, operators of the 495 and 95 express lanes, for significant enrichment of Fairfax County parks through contributions to the Fairfax County Park Foundation (FCPF). 
Officials thanked Transurban for its support at a ceremony on December 10, 2019, at the accessible carousel at the Lee District Family Recreation Area. Transurban was granted naming rights to one of the horses because of a donation to the Park Foundation. The sponsors fittingly named the Chessie's Carousel horse "Elane."
"Transurban is honored to support the Park Foundation's many programs that help make our community a great place to live," said Brent McKenzie, Transurban Government Relations & Community Outreach Manager.
Since 2011, Transurban has donated a cumulative total $182,700 to FCPF for parks and programs located near the express lanes. Grants and charitable contributions enable the Park Authority to provide the popular Lee Nights Summer Entertainment Series, Chessie's Big Backyard playground and programs at other parks.
A $10,000 gift to the Fairfax County Park Foundation enables the donor to name one of a limited number of Chesapeake Bay-themed Carousel features. To learn more, visit Chessie's BIG Backyard at Lee District Park.
Pictured standing from left to right are: Dr. Cynthia Jacobs Carter, Park Authority Board Lee District representative; Margaret Thaxton, FCPF Director of Development; Dr. Abena A. Aidoo, At-Large Park Authority Board representative; Rodney L. Lusk, Lee District Supervisor-elect; Jeff McKay, Fairfax County Board of Supervisors Chairman-elect; Brent McKenzie, Transurban Government Relations & Community Outreach Manager; Bruce D. McLeod, FCPF Board Emeritus; Bobbi Longworth, FCPF Executive Director; Michael Gailliot, Vice Chair, FCPF Board of Directors.
For more information, visit us online.
Media Note: Click photo to download