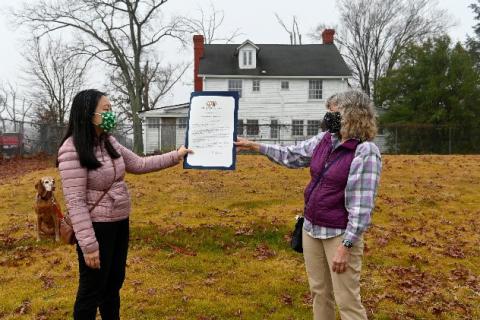 The Laurel Hill Park Volunteer Team (PVT) has been honored by the Virginia House of Delegates for its service work on behalf of parks. Delegate Kathy Tran proposed a resolution to honor the group for receiving the Park Authority's Elly Doyle Service Award in 2019, and she presented it to the Laurel Hill PVT in a ceremony at the park on December 12, 2020.  
House Joint Resolution No. 257 was offered on February 18, 2020, as an expression of the General Assembly's "ardent appreciation for their contributions to Fairfax County and the Commonwealth." It commends the Laurel Hill PVT for being one of the first groups to collaborate with the Fairfax County Park Authority through the Park Volunteer Team Program and helping the county refine its model for coordinating park maintenance efforts between county employees and volunteers. 
Members of the PVT conduct service activities throughout the year such as trash clean-ups, invasive plant removal and trail maintenance. The work is part of group's mission to make Laurel Hill Park as beautiful and inviting as possible and to protect the park's pristine nature, wildlife, birds and plants.   
For more information, contact the Public Information Office at 703-324-8662 or send an email to parkmail@fairfaxcounty.gov.   
See more photos at: https://www.flickr.com/photos/ffxparks/albums/72157717472667816 
Media Note: Click photo to download