By Chase Brown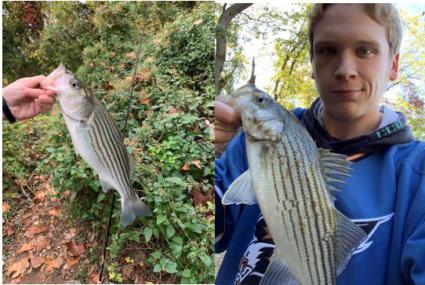 The cold fall weather is finally starting to move in, and you know what that means. The Striped Bass are here. Striped Bass, or Stripers as most people call them, are a migratory fish that move up and down the East Coast of the United States. During the fall, massive schools of these fish travel up the Potomac River and into the creeks. Stripers can vary in size, the smaller ones which are generally referred to as "schoolies" are usually around 12 to 24 inches.  However, in recent years anglers have pulled out some trophy size Striped Bass from the Potomac with some reaching over 40 inches.
The typical ways to catch these fish are soft plastics, crankbaits, or live minnows. Make sure that you use a jig head that is not too heavy or light, I recommend between a ¼ or ½ oz. depending on the current.  In my experience, Striper seemed to be really drawn to white or silver colors and especially love the movement that a long grub trail lure makes. The color of your jig head isn't as important to Striper, but I typically go for red, white, or standard lead color. Live baitfish are an excellent choice as well for catching Stripers so if you can get hold of some bullhead minnows or shiners you should have success. I find that a 3/0 size circle hook with a ¼ oz. weight attached a foot above the hook is the best choice for fishing your live bait.
Areas such as creek mouths and deep channels are excellent places to find Stripers holding up. You can find a lot of success in areas where the Potomac meets up with a creek as the Striper are typically moving in and out of these areas on a regular basis. The best time to target these fish are on an incoming tide so make sure you go online and find a tide chart for your area. Striper tend to travel in schools so if you can catch one then you can usually catch a handful. Remember the technique you used to catch the first one and there should be more to follow. Deep channels along shallow riverbanks are another area that Striper tend to frequent since the deep water gives them some cover and allows them to pick off baitfish as they move out of the shallows. Fairfax County provides some excellent fishing spots to target Stripers around the Alexandria and Mount Vernon area. Any of the local creeks around you that feed into the Potomac are great places for you to try to target Stripers. Take a drive along the George Washington Parkway and you will be sure to find some great areas to try and land one of these amazing fish.