Fishing can be intense and competitive or calming and contemplative.
You can capture fishing moments in Fairfax County, because fishing is legal in Park Authority waters unless posted signs say otherwise. A valid Virginia fishing license is required for people 16 years and older, and Virginia fishing regulations apply.
Come try your luck in these Fairfax County parks:
Riverbend's clear Potomac River waters are for smallmouth. There are sunfish and catfish, too. It's a great place for children. You can fish from shore, but better catches come from boats. There's a launch ramp for small craft and weekend rentals of rods and jon boats. Fishing supplies, instruction, classes, birthday parties and a summer camp are available. A Maryland or Virginia fishing license is valid, but the park does not sell them.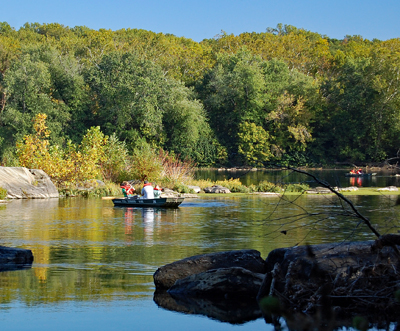 Burke Lake is a 218-acre, state-owned public fishing lake. Fairfax County owns the surrounding land. A 24-hour state launch ramp exclusively for anglers is near the dam. A marina, ramp and pier are mid-lake. Gas motors are prohibited. Smaller docks sit between the state ramp and dam. This may be the region's best muskie water. State surveys show it has the top largemouth bass population among Northern Virginia impoundments. Because it is heavily fished, bass tend towards deeper waters. The lake has channel cat, bluegill, white and yellow perch, redear sunfish, walleye, blue catfish and a healthy gizzard shad base.
Although fishable year-round, spring is the premier time for fishing at Lake Fairfax . Thousands of pounds of safe-to-eat rainbow trout are stocked in the lake then. Bi-weekly stockings run from February into April. A Virginia fishing license is required along with either a one-day or a seasonal trout fishing pass available at the site. There are one-pole and six-fish limits. The lake is very accessible for shoreline fishermen.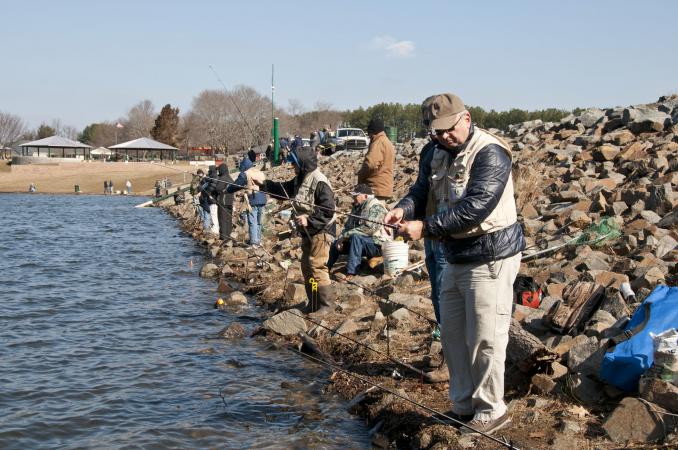 Lake Accotink was drained in 2011. It has not been restocked, but some fish have been transferred into it from other Park Authority lakes. It is generally considered a below-average fishing water. Because of siltation, it is a shallow lake of six feet or less, and fishing generally centers on bluegill and catfish.
Walney Pond has sunfish, bass and catfish. Access is easy. The one-acre pond is probably a better place to take children rather than a destination for advanced anglers or those looking for a fresh dinner.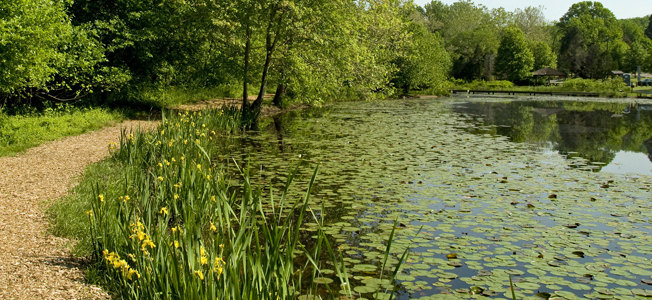 Hidden Pond Nature Center
Although there is fishing at Hidden Pond, the success rate is poor. The docks, however, make it a handy place to teach children about fishing. It's a catch-and-release site.
Tips for Beginners
Generally in winter and summer, fish are in deeper water. In spring and fall they might be in shallower parts of a lake. In lakes, deeper water is usually at the dam end and shallower water is uplake. On a big lake, pick one creek or cove and think of it as a small lake, deeper at one end. Pick a spot to start based on where fish should be at that time of year.

Next, look for something different. Imagine you're walking on a street that has only one building, and inside is a restaurant. Where would you find people? In that restaurant, because it has food and shelter.
Fishing is like that. In your cove, look around. What's different? Look for a stump, a fallen tree, a beaver dam, grass, a point of land, a dock piling, or an edge where grass gives way to rocks. What if there are lots of fallen trees? Well, which one is biggest? Which one is closest to the creek channels that fish use as highways? Think about what the fish see, and keep asking what stands out as different. That's where the fish are often found.
Water depth is critical to catching fish. If you catch one, throw your lure or bait back to that same depth. A bobber can help. Start with your bait a couple feet deep. If you get no bites, set your bait a foot or two deeper. Keep changing depth until you start catching fish, and then keep your bait at that depth.
Are they safe to eat?
PCBs are a health concern in some county waters. There are restrictions on eating eel, catfish, carp, bass, bullhead, perch and sunfish in the Potomac River basin. Conditions and health advisories can change.
The Virginia Department of Health issues fish consumption advisories. Visit that agency's website with advisories for Fairfax County waters.
Recycle Monofilament Fishing Line
The Fairfax County Park Authority partners with the Virginia Department of Game and Inland Fisheries to recycle monofilament fishing line. Please use the line recycling bins at county parks. Monofilament line left outdoors can be deadly to wildlife.