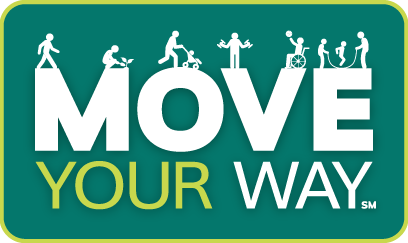 With all the fitness fads and conflicting health advice flooding our news feeds, it can be hard to catch people's attention with the physical activity messages that matter. The Move Your WaySM campaign can help.
The Office of Disease Prevention and Health Promotion (ODPHP) developed the Move Your WaySM campaign to share key recommendations from the second edition of the Physical Activity Guidelines for Americans, released in November 2018. Rather than a one-size-fits-all approach, Move Your WaySM emphasizes personalized, practical strategies that people can use to fit more activity into their busy lives, while clearly communicating the amount and types of physical activity Americans need to stay healthy.
And you can help spread the word! The Move Your WaySM campaign has resources for health professionals, organizations, and communities to reach adults, parents, kids, and older adults. Use our fact sheets, posters, videos, and interactive tools in English and Spanish to motivate people to be more active and start feeling the benefits of physical activity today.
Visit the Move Your WaySM website to access these resources and get moving!
Move Your Way Pledge Sheet
Use the pledge sheet below to help promote Move Your WaySM in your community.
You can print out the pledge sheet to share at schools, workplaces, or community events. Ask people to write down how they plan to get active this week — then display all the completed pledge sheets. You can also ask people to take a selfie with their pledge sheets to share on social media with the hashtag #MoveYourWay!
MOVE YOUR WAY DAY – MARCH 14, 2020
Learn more about special membership options for this day only!
New members only. See RECenter for details.
Walk. Run. Dance. Play. What's your move?
Move Your WaySM Day event schedules for each RECenter: