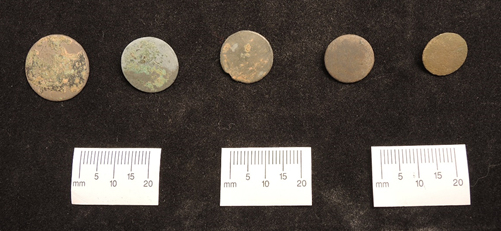 The button, like most other objects and tools, has evolved through the centuries. Historical documents and the archaeological record show us that its uses range from utilitarian to decorative. Sites that yield a high number of buttons can help archaeologists date the area and determine the types of people who occupied the land. Domestic archaeological sites often will yield buttons from men's clothing rather than women's. Many garments worn by men in the 18th century required fixtures or buttons while women's clothing had lacing or hook-and-eye closures. The size and shape of buttons correspond to their use. Buttons found on waistcoats differed from those found on a shirt or breeches, and they can offer clues to archaeologists about the site being excavated and the people who lived there.
The button industry flourished across Europe in the 18th century, and many of those found in the Mid-Atlantic region were imported. Buttons can be made out of many different materials such as wood, seashells, glass, or metal. Metal buttons are stamped from metal disks using a carved mold usually made out of pewter. They then can be treated with decorative elements or simply left with the maker's mark.
There's more information about artifacts and current excavations around Fairfax County at cartarchaeology.wordpress.com.