A Summer Wedding for Clark House's First Residents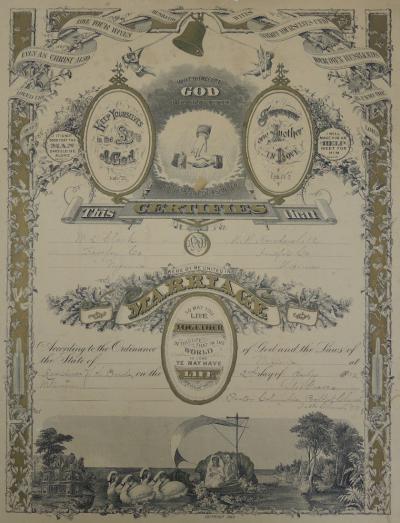 Along Columbia Pike, not far from Lake Barcroft, sits a preserved historic house associated with images of love.
In 1902, William Lee (Willie) Clark contracted with Henry Manchester to build a house on Manchester's more than 200-acre property in Falls Church, Virginia. The story goes that Manchester was paid two dollars a day plus dinner. Today, the house, minus its attached kitchen, is the sole surviving architectural remnant of the property's agricultural complex of dependencies, barns, and other farm buildings. Clark and his wife, Minnie May Howdershell Clark, ran the farm and raised their children in this house.
William and Minnie were married on July 2, 1902, at Minnie's parents' home in a ceremony officiated by Pastor A.W. Graves of the Columbia Baptist Church in Falls Church. This marriage certificate marks the beginning of their life together. The body of the text reads:
"THIS CERTIFIES THAT W.L. Clark of Fairfax Co., Virginia and M.M. Howdershell of Fairfax Co., Virginia WERE BY ME UNITED IN MARRIAGE According to the Ordinance of God and the Laws of the State of Virginia at Residence of the Bride on the 2nd day of July, 1902."
Marriage certificates, unlike applications and licenses, offer documentary evidence that a couple actually married. While civil records are held by county clerks, this type of decorative copy was often saved to commemorate the event and passed down to future generations as a family keepsake.
This certificate is adorned with many scriptures relating to marriage, and at the bottom of the certificate there is an image of a couple being pulled in a boat by a cluster of swans. Swan imagery in relation to love and marriage was highly popular at the turn of the century. Because of the lore that swans mate for life, their image became synonymous with ideas of fidelity and purity in marriage.
The Park Authority restored the farmhouse to its original Victorian design with a large front veranda with columns, a stately square façade featuring dormer windows, and a prominent crow's nest on the top of the structure. In 2000, William and Minnie's grandson donated the marriage certificate to the Fairfax County Park Authority in remembrance of his grandparents, ensuring that the Clark family legacy will be remembered in the Fairfax County community for years to come.
To learn more about Clark House, visit Clark House.
Other artiFacts