Archaeology Illustration: The Art in Artifact
Tyler Ball, M.A.
Artifact Illustration is a beautiful but dying art. However, archaeologists still find artifact illustrations useful for highlighting multiple details in one graphic that might otherwise be difficult to capture in a single photograph. These illustrations can better convey depth and textures that might appear flat or washed out.
Does the time-of-day matter when illustrating artifacts? Yes, artifacts, especially heavy ones that cannot be moved, can only be examined and documented in the field. Photos taken at different times of day will often capture different light and shadows on an artifact's surface, either obscuring or highlighting details.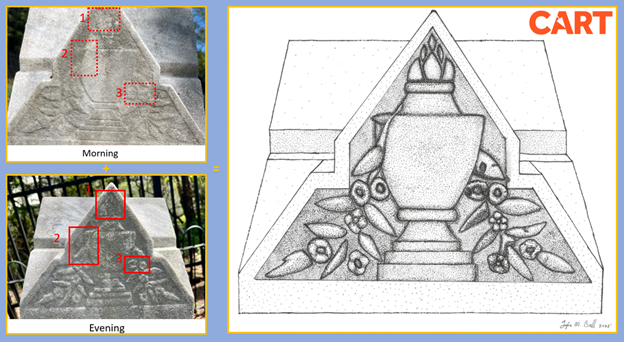 Take a moment to look at the photographs of the Cowling family obelisk from Summers Cemetery in Lincolnia, Virginia captured at two different times in the same day. The top photo was taken during the morning when the light emphasized the general outlines of the carved iconography. The bottom photo was taken in the afternoon when the light exposed more details. The illustrator combined both the outlines and the details shown in both photos for a more accurate depiction of the artifact.
Compare the numbered details in the photos. Box 1 highlights the flames of the burning chalice; Box 2 highlights the flora lying over the chalice; and Box 3 highlights two different types of flower petals. These three details went unnoticed during the first examination of the artifact but were recaptured in the illustration.
When illustrating an artifact, it is important to utilize photos taken with an array of light types directed at different angles to reveal the artifact's more subtle details. An illustrator can use this method with for every artifact, regardless of its material, size, or location.
Other artiFacts