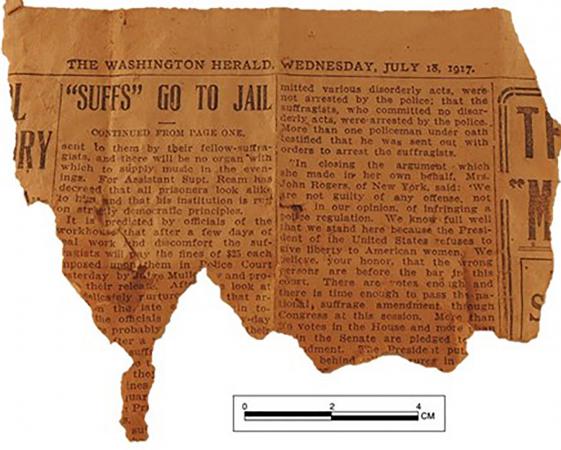 In 2018, Fairfax County archaeologists discovered this remnant of an issue of The Washington Herald from July 18, 1917. This paper, found in a wall and likely being used as insulation, provides an insightful glimpse into the history of women's suffrage in Fairfax County just a few months after the United States entered World War I.
The front-page article, "16 'Suffs' Go to Occoquan To Serve 60 Day Sentence" by Cleland C. McDevitt, tells the story of Suffragists  sentenced to 60 days imprisonment in Lorton at the Occoquan Workhouse for picketing outside the White House gates. The article says that the women would spend their days "in the garden, others will do their 'bit' in the laundry, and still others will be detailed in the kitchen… Darning socks for the men prisoners, sewing on buttons and mending rents in both their own and the men's clothing will be the task of others."
Part of the column quotes Elizabeth Selden Rogers. "[W]e are not guilty of any offence, not [paper deteriorated] in our opinion, of infringing a police regulation. We know full well that we stand here because the President of the United States refuses to give liberty to American women." Rogers was sentenced to 60 days but was pardoned after three.
What the 1917 July article does not foretell is the violence the suffragists experienced while in the Occoquan Workhouse. Peaking on "the Night of Terror" in November of 1917, the suffragist prisoners were brutalized by guards on the orders of the warden. The women managed to get word of the violence they experienced out to the public and were released from prison. Seventy-two women, commonly referred to as the "Suffragettes," were jailed at Lorton.
Undaunted by the atrocities they experienced, the women continued to picket. They also travelled the country to promote voting rights for women and occasionally dressed in replica prisoner garb. On August 19, 1920, the 19th Amendment to the United States Constitution, granting women the right to vote, was ratified.
Built in 1910 for the District of Columbia, what would become the notorious Lorton Penitentiary, began as a workhouse built on the Progressive era idea that hard work, fresh air, and routine would rehabilitate offenders. The prison was later expanded and called the Lorton Reformatory and, later still, the Lorton Correctional Complex. The District of Columbia Workhouse and Reformatory Historic District was listed in the National Register of Historic Places in 2006.
Today, The Workhouse Arts Center is located in the original buildings that have been subject to adaptive reuse. The Lucy Burns Museum at the Workhouse is dedicated to "91-years of prison history, including events of the women's suffrage movement." A memorial to the fight for women's suffrage was recently erected at NOVA Parks' Occoquan Regional Park.
See also: