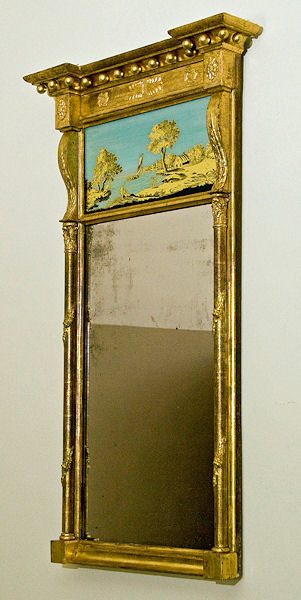 Peer into history through a looking glass.
Sully Historic Site is home to a late Federal-period looking glass that was missing from the site for nearly 200 years. It was returned in 2008 and now rests in the parlor of the 1794 home of Richard Bland Lee, northern Virginia's first congressman. Records indicate the glass was owned by the Lee family.
Looking glasses similar to this one were very popular in homes of wealthy Virginians such as George Washington, Thomas Jefferson and James Madison.
The whereabouts of this 46-inch tall and 25-inch wide mirror had been unknown until it appeared on the auction block at Sotheby's in New York. A gentleman from South Carolina purchased the antique looking glass, and former Fairfax County Park Authority Collections Specialist Jeanne Niccolls contacted him to see if he would loan Sully the mirror to display with other Lee family artifacts. Fascinated by the mirror's historical importance, in 2004 the gentleman donated it to the Park Authority.
The original manufacturer of the mirror remains unknown. Thanks to funding from the Sully Foundation, Ltd., the mirror underwent restoration by a company in Richmond, Va., from 2006 to 2008 before being returned home to Sully in 2008.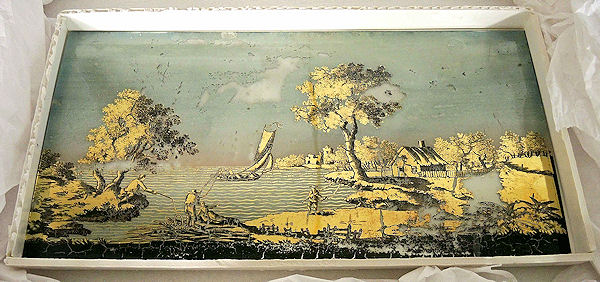 A reproduction painting that depicts a water scene with a boat and men fishing adorns the top of the mirror. The glass panel is decorated with a technique called eglomise, the art of painting on the back of glass and allowing the picture to show through. The original glass panel was too fragile to undergo treatment for display in a permanent exhibit, so it was conserved and is stored in the Park Authority's collections at the Walney Visitor Center in Ellanor C. Lawrence Park.
The frame is giltwood, which is wood with a thin layer of gold leaf or foil applied to it.
The mirror is on display at Sully Historic Site.