The Frying Pan Farm Park Meeting House, adjoining springs, baptismal pond, grounds and cemetery are among the longest-standing landmarks in western Fairfax County. The meeting house, which takes its name from the nearby Frying Pan Run, has survived for more than 200 years and major historic milestones from the Civil War to 20th century suburban growth. A house of worship for both the Black and white residents of Floris, Virginia, this structure was built between 1783 and 1791 for the Baptist congregation.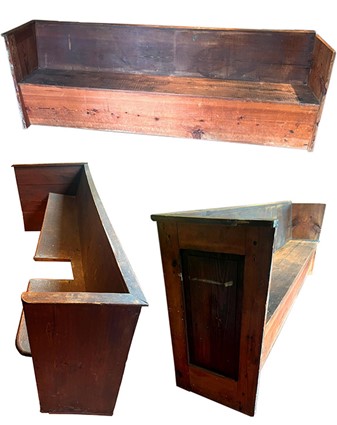 This structure is the only known church to have been built in Floris before the late 19th century. From 1791 when the church was completed until 1867, the Black community of Floris gathered for worship at the Frying Pan Meeting House. By 1840 the meeting house had 29 Black members, including both free and enslaved people, and 33 white members. 
Black worshipers, who sat in the balcony area of the church, used pews crafted from pine and oak planks and square-cut nails. Several of these pews are now preserved for posterity in the Fairfax County Park Authority's museum collection. 
Constructed by members of the Frying Pan Meeting House congregation before the Civil War, these pews vary in style and level of ornamentation. Some pews are decorated with molded panel sides, while others are unadorned and simple. Several retain clues to how they were situated in the balcony due to cut-out sections that fit around the building's support columns.
Two years after the conclusion of the Civil War, some Black members of the church organized a new Baptist congregation. In 1882, they built Mount Pleasant Baptist Church on nearby Coppermine Road, where worshipers gathered for the next 100 years. 
To learn more about Frying Pan Meeting House and to explore opportunities to tour the structure, visit the Frying Pan Park Meeting House.