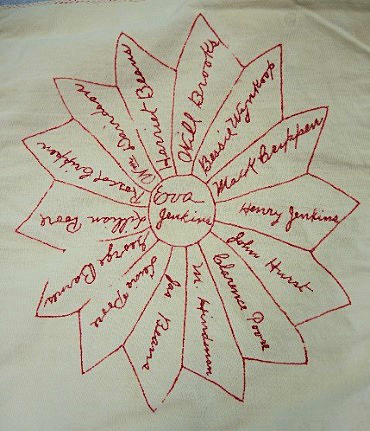 Dranesville Tavern was built around 1823 by Sanford Cockerille. Samuel Jenkins and his family operated the building as a tavern named Drover's Rest and as a hotel, among other things, between 1881 and 1968. The Jenkins were the last family to privately own the property. Plans for the widening of Route 7 threatened the tavern, and the Fairfax County Park Authority bought the property and saved it from demolition. It was listed on the National Register of Historic Places in 1972.
A quilt in FCPA's collections was made by the Jenkins family and their neighbors. A detail of one of the quilt squares is pictured. Eva Jenkins' name is featured in the center. Eva was one of Samuel Jenkins' daughters and, according to an oral history interview with her, she was born at Dranesville Tavern. Besides the Jenkins family, other family names embroidered on the quilt include Brooks, Hurst, Poore, Coleman, and Barnes. The quilt was donated to the FCPA by one of Samuel Jenkins' granddaughters in 1979. The donor and other descendants recalled that the quilt was made as a community Christmas project in 1906 and was possibly associated with the Dranesville Methodist Church, where the Jenkins daughters were very involved.
The quilt is large, measuring 72" by 74," having five squares across and five squares down. This quilt is called a friendship quilt, a popular style in the mid to late 19th century. These quilts tied members of a community together. They were often given as wedding gifts, when someone was going to move away, or to commemorate a shared experience. In early friendship quilts, names were typically written in ink. The names were very small, and the design made them hard to find. The Jenkins family and their neighbors followed a later style, embroidering their names in a bold red color on a white background, making their names easy to see. This type of design highlights, rather than hides, the names. Flowers were a common motif in friendship quilts. In this one, each square contains a poinsettia, with each of the 14 petals and center containing a name. The poinsettia design and red color were appropriate for the holiday season in which this quilt was made.