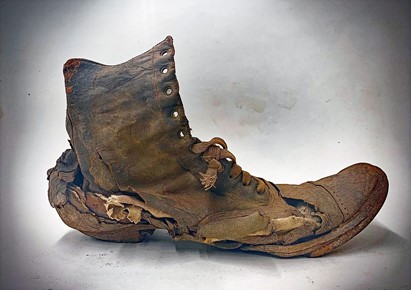 From shoes to entire homes, Sears, Roebuck & Company has left its mark on Fairfax County history.
Farms dominated Fairfax County's western landscape during the 1830s. At that time, James and Emily Wrenn owned a 194-acre farm on what is now Lee Jackson Memorial Highway near Chantilly. The Wrenns' farmstead contained a barn and a two-story house where they lived until about 1842, after which the property passed to numerous owners.
Annie and Arthur Wrenn purchased the property in 1900. After Arthur's death in 1908, Annie and her daughter Olive lived on the farm until Annie died in 1939. Subsequent owners appear to have maintained the farm prior to 1980, by which point aerial photographs show only abandoned structures.
The Wrenn house and outbuildings were demolished and the site bulldozed in 1984. Archaeologists surveyed the site in 1985. They collected 20th-century container glass, ceramics, plastic buttons, animal bones, oyster/clam shells, plaster, nails, spikes – and a woman's leather lace-up shoe. The shoe likely belonged to Annie or Olive Wrenn. One of the women may have ordered shoes from the 1908 Sears, Roebuck & Company Catalog. Page 532 advertises the ladies' leather shoe as "A Good Wearer. More stylish than any $1.50 shoe we ever saw." This shoe closely resembles the Wrenn site shoe, which is among thousands of artifacts curated at the Fairfax County Park Authority Archaeology and Collections Branch.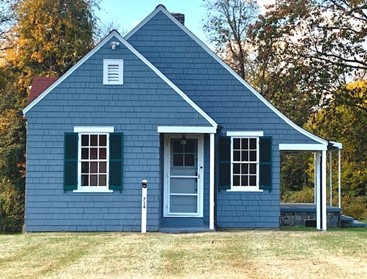 In 1908, Sears sold more than shoes. That year the company published its first Modern Homes Catalog. The company sold a variety of house kits to people seeking affordable housing. The 1933 Modern Homes Catalog's Brentwood model "Americanized Bungalow" kit caught the eyes of Roger and Wilma Spindle.
The building footprint contained five rooms. Emergency Farm Mortgage Act of 1933 funds enabled the Spindles to purchase a 4 ½-acre lot on Mount Gilead Road in Centreville. They ordered their Brentwood kit in January 1934. The $1,244 kit contained building plans and most materials needed for construction – from floorboards to bathroom fixtures. The Spindles' kit arrived in Clifton from Chicago in two railroad boxcars. Trucks delivered the kit to the house site, and local contractors completed the catalog home by June 1934.
Spindle family members lived in the house until the mid-1980s. The last private owner sold the house and adjacent historic structures to Fairfax County in 1996. The County transferred ownership to the Park Authority in 2006. The Spindle Sears House is now fully restored within the Centreville Historic Overlay District.