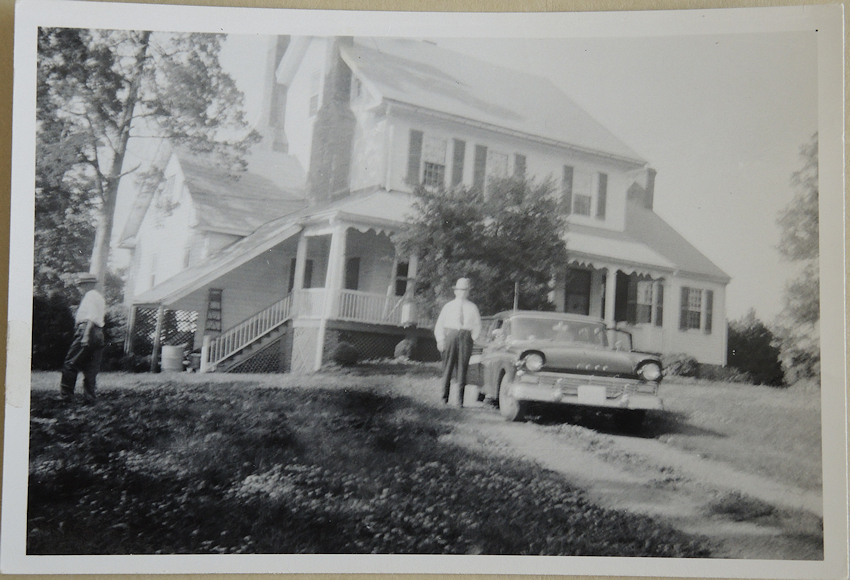 A photograph in the Fairfax County Park Authority's (FCPA) Collections brings us back to a time when cars that would now be considered antique were parked daily on front lawns. The photo captures an everyday moment. On the left is Gilbert McLearen, and on the right is Colonel A. B. Bratton. The car is thought to be a 1957 Ford.
The McLearen family was one of the many families to live at Sully since the house was completed in 1799. Gilbert McLearen and his wife, Sarah, moved to Sully in the winter of 1910-1911. They'd been hired by landowner William E. Miller to help manage Sully as a dairy farm. They occupied the two-room east wing of Sully during winters and shuttered the rest of the house until spring. In the fall of 1911, they welcomed their first child, Chester, who is thought to be the last baby born at Sully.
 
The photo is believed to have been taken around 1960, after the FCPA acquired the site. Even though this picture is from a time after they lived at Sully, the McLearen family stayed in the Herndon area, making this visit possible. The photo was donated to the FCPA by Gilbert and Sarah's daughter, Mabel, in 1989.