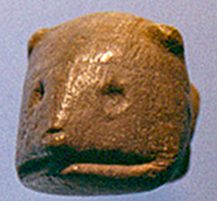 Around the year 1360, a skilled Dogue Indian living near the Occoquan River carved this small soapstone effigy of what appears to be a beaver or an otter. At that time, beavers and otters were found in great numbers in North American waterways and coastal areas, and the detail and expression on the animal's head reflect the artist's familiarity with these playful creatures. The effigy may have been part of a smoking pipe or full animal figurine, and it is one of the most important artifacts recovered in Fairfax County because of where it was found.
Archaeologists excavated the effigy at the Hartwell Site in southern Fairfax County, which the Dogue Indians occupied during the Late Woodland period (A.D. 900-1600). This significant site may be Tauxenent, the Dogue people's major village that English Captain John Smith documented during his journey up the Potomac River in 1608. Tauxenent was situated strategically at the mouth of the Occoquan River and may have been home to up to 170 people when Smith passed by. One of Smith's companions wrote of "… a few beaver, otters, bears, martins and minks we found."
After Smith's explorations, Europeans settled along North America's east coast. As the fur trade expanded, beaver and otter populations plummeted as trappers killed millions of animals and exported their pelts to Europe. By the early 1900s, beavers and otters had disappeared from much of their historic range. Wetland drainage and water pollution contributed to their decline. In 1932, Virginia game managers relocated 35 beavers from other states to restore the state's beaver populations. Similarly, Virginia's otter population had so declined that they were declared a state endangered species in 1978.
Life for beavers and otters is much better today. Conservation and wetlands management efforts in Fairfax County and elsewhere have restored habitats where beavers and river otters are again finding homes. In January 2021, a North American river otter unexpectedly appeared at Huntley Meadows Park in Alexandria, where Jane Gamble photographed it eating a fish. This otter quickly became a celebrity during its brief visit. People may see beavers and an occasional river otter at several parks in Fairfax County, including The Elizabeth Hartwell Mason Neck National Wildlife Refuge, Mason Neck State Park, and the Meadowood Special Management Recreation Area.
The artist who created the animal effigy 650 years ago lived in what is now eastern Fairfax County, where native animals and plants thrived. Today, it's easy to learn about Fairfax County's plants, beavers and other animals that the Dogue Indians knew. Just download the Field Guide to Fairfax County's Plants and Wildlife.