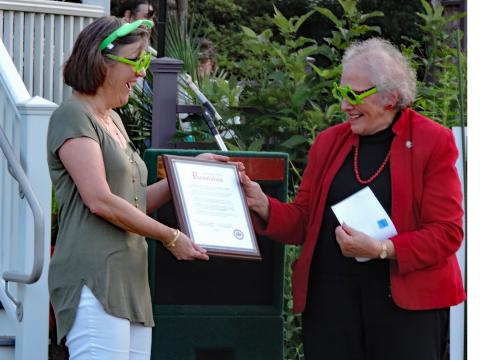 The Friends of Green Spring Gardens, better known as FROGS, were honored for 25 years of service to the Fairfax County Park Authority site with a resolution from the Fairfax County Board of Supervisors. At an evening concert and celebration at Green Spring on June 26, 2018, Mason District Supervisor Penny Gross presented the resolution, which she called an "anniversary card," to FROGS President Sarah Munroe.
Over the past quarter-century, the FROGS organization has donated more than $1.9 million to support Green Spring operations and special projects. FROGS has used its Annual Appeal to support initiatives such as the Frances Tyler Fund, which subsidizes educational programs for children from Title I schools and has supported 10,055 children through more than 500 educational programs. The group has provided renovations to the Glasshouse, repairs to Historic Green Spring and maintenance vehicles for staff. In addition, it expanded the Garden Gate Plant Shop, funded plants and site maintenance projects, and sustained Spring Garden Day, the Fall Garden Day & Silent Auction, summer concerts, Gardeners' Holiday, art shows in the Historic House and Horticultural Center, and the Harry Allen Winter Lecture Series.
Pictured left to right are: FROGS President Sarah Munroe and Mason District Supervisor Penny Gross.
For more information about Green Spring Gardens and the FROGS organization, visit Green Spring Gardens.
Media Note: Click photo to download.