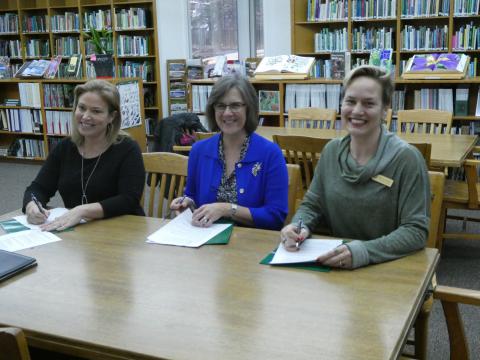 The Fairfax County Park Authority (FCPA) and the Friends of Green Spring (FROGS) signed a Memorandum of Understanding (MOU) on Friday, January 4, 2019, at Green Spring Gardens.
FROGS was established in 1993 with the sole mission of supporting Green Spring Gardens. Over the last 25 years, it has provided more than $2 million in funding for the public garden and historic site in Alexandria, Virginia.
An MOU establishes a framework for a productive working relationship between organizations in order for mutual support to continue and prosper. Friends group MOUs cover issues ranging from services offered to finances to governance and administration.
Pictured are (left to right): FCPA Deputy Director/Chief Operating Officer Sara Baldwin, FROGS President Sarah Munroe, and Green Spring Gardens Site Manager Nicole Conners. Susan Voss, who was not present in the photo, was instrumental in the MOU process for FROGS and the Federation of Friends Groups that support FCPA.
For more information about the Park Authority, visit online at Parks.
Media Note: Click photo to download