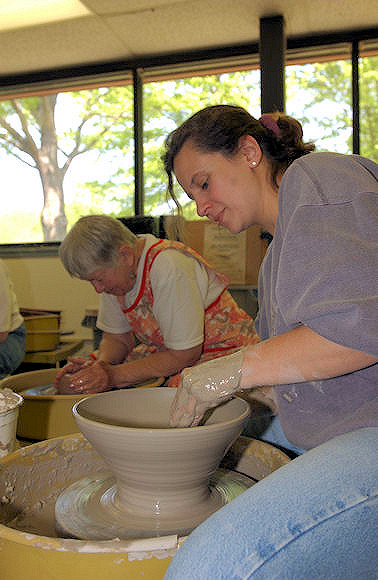 Have Fun, Relax and Make Friends!
If you are 6 years old or older and like to make items out of clay, we have a program for you! Our pottery program offers opportunities for students -- from the beginner to the experienced -- to be creative in an educational and friendly atmosphere. Children, ages 6 -12, express their artistic abilities exclusively through hand built projects. If you are 13 years old or older, you can use an electric wheel, hand build or use an extruder to create unique pieces. Check Parktakes Online for class availability.
In addition to classes, we have an open pottery lab for experienced potters who want extra time to work on their project. You can save by purchasing a 12-hour lab pass. The cost is $50 for current students and $125 for non-students. Our clay is $33 for a 25-pound bag, firing fee included with purchased clay. We only fire pieces that were made with clay issued by the Rec Center.
Open Pottery lab hours:
Sunday: 11:30 a.m. - 2:30 p.m.
Monday: 9:00 a.m. - noon
Friday: 9:00 a.m. - noon
Friday: 5:00 p.m. - 8 p.m.
Call Audrey Moore Rec Center at 703-321-7081
to confirm lab hours on given days. Lab closed on holidays.