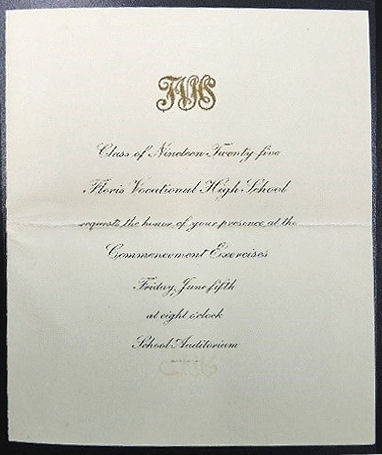 The motto of Floris Vocational High School's graduating class of 1925 was "On Life's Highway." Their class colors were white and green and, suitably, their class flower was the white rose.
All of this information is documented on a commencement invitation that is part of the Fairfax County Park Authority's Museum Collection. This invitation and other school-related objects from the collection are currently on loan to the Fairfax City Museum and Visitor Center as part of the exhibit, "Chalkboards to Smartboards: Public Education in Fairfax County." The exhibit, in honor of Fairfax County's upcoming 275th Anniversary, will be on display through July 2017.
Though brief, the invitation holds a wealth of information. Besides the class motto, the invitation gives details on the upcoming ceremony. The commencement was planned for Friday, June 5, in the school auditorium. The graduating class, mostly women, consisted of 12 students: Audrey Sarton, Camilla Pauline Carson, Anna Louise Melcher, Rebecca Alice Middleton, Sarah Patton, Virginia Kate Patton, Estelle Marie Poland, Irene Rodgers, Stella Virginia Sibley, Kelsie Hornbaker, Warren Lee Rosenberger, and Jesse Alvin Torreyson.
Old Floris Schoolhouse was built in 1876. In 1911, a new schoolhouse with four rooms was built where the original stood. The Floris Vocational Technical High School, the school mentioned in the invitation, was constructed near the new schoolhouse in 1920 and opened its doors in 1921. The three-story school had eight classrooms, an auditorium, a small gymnasium, a kitchen, and restrooms. While the high school itself was demolished in the 1950s, The Frying Pan Farm Park Country Store is currently housed in the old Vocational Technical High School Shop Building, which was also built in 1920. Here the students studied the mechanics of tractor repair, practiced wood-working skills, and learned about the latest technical and agricultural equipment.
A 1911, four-room schoolhouse also still stands today within Frying Pan Farm Park. Both buildings are part of the Floris Historic District, which is listed on The National Register of Historic Places. The register, a part of the National Park Service, was established in 1966 by the National Historic Preservation Act. It marked its 50th anniversary in 2016.