Sully's Tall Case Clock
By Barbara Ziman
You flick your wrist, glance at lighted numbers on a dashboard, or pull out a cell phone to check the time of day. But not too long ago, during the Federal period (1795-1820), clocks were still considered a luxury for most people. They were becoming more readily available, but even the well-do-do usually had only one clock in their home. A clock was a status symbol suggesting a certain standard of wealth, and some wrist watches today retain that image.
Sully was built in 1794 for Richard Bland Lee, northern Virginia's first congressman and an uncle of General Robert E. Lee. As part of his furnishings, Mr. Lee would very likely have owned a clock.
A part of the permanent exhibit at Sully Historic Site includes a tall case clock from the Fairfax County Park Authority's Museum Collections. Complementing the parlor décor of Mrs. Lee's sofa, pianoforte, and tea table, the clock is a popular artifact with both staff and visitors.
Sully's clock is in the Chippendale style and is dated to 1760-1770. The clockworks are attributed to clockmaker John Guild and were originally made for Judge Joseph Reading. The dial is inscribed "Joseph Reading, Hunterdon County, New Jersey.?? According to Dr. David Sperling, a well-known antiquarian horologist, the clock's cherry wood case is a product of Bucks County, Pennsylvania cabinetry. During the 18th and 19th centuries, clockworks and cases were manufactured by craftsmen who specialized in their respective media. The works were then placed inside the case that was made to hold them.
Typical of clocks at that time, the face has Roman numerals. The shape of clock hands changed over time, an indication of the time period when they were made. Sully's tall case clock fits into 1760-1775 time frame with its "owl-eyed?? hour hand and spear-shaped minute hand. The clock case is topped by a broken pediment and finial, a design commonly used in Chippendale pieces. The lower part of the case, which would accommodate the chains used for "winding?? the clock, is paneled, and each section of the case is trimmed with dentil moldings.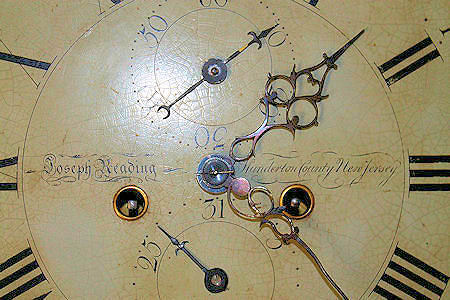 You can see the clock on tours at Sully Historic Site. The site is open for guided tours daily except Tuesday from 11 a.m.-4 p.m. During your tour, look for the tall case clock in the parlor.