The thirst for history from a more personal vantage point was on full display July 31, 2021, when a large crowd, including family members from several states, park neighbors, members of the Park Authority Board and staff, local officials, and History Commission members, gathered at Freedom Hill Park in Vienna for the inaugural Untold Stories program.
Untold Stories is an interpretive project of the Fairfax County Park Authority (FCPA). It is a multiyear project involving dozens of parks across Fairfax County. The goal is to increase the representation of all peoples in the stories the Park Authority tells as it interprets county natural and cultural resources. This is one strategy in a larger equity and diversity plan that the organization is creating and implementing.
Saturday's event featured a traditional land acknowledgment ceremony, as well as the unveiling of new interpretive signage that explains a unique time and circumstance during the Civil War and Freedom Hill's role in it. It also tells the story of a special community that existed amid the racism of the time. It is about a local multiracial family and a family member who may have been a Union spy. Residents of Freedom Hill represented a quintessential American ideal – people of all races and their descendants coming together as one community.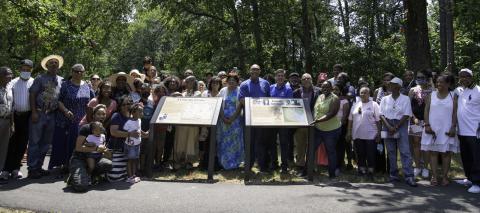 Pictured are several generations of the Carter Family, as well as others involved in the project. Left to right in the center: Rose Powhatan, Director of the Powhatan Intertribal Museum; Gloria Runyon and Dee Carter; Park Authority Board Chairman Bill Bouie; Hunter Mill District Supervisor Walter Alcorn; and Edwin Henderson, project leader.
You can find more information at the Freedom Hill website or read more about Untold Stories.
See Saturday's event program here.
Media Note: Click the image above to download.
See all the Freedom Hill Ceremony photos at the Freedom Hill Flickr page. 
View a video of the event below.