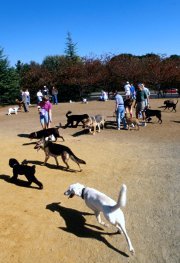 The Fairfax County Park Authority has always welcomed leashed dogs in all of its parks. Now, for owners of well-mannered canines who enjoy a good run or a friendly romp, there's the additional option of dog parks - fenced areas where unleashed dogs can have free play. At present, there are nine established dog parks. Additional off-leash dog areas are in the planning stage.
All of the dog parks are public/private partnerships, developed in cooperation with sponsoring organizations of pet owners. The sponsors are the agency's liaison between users and local residents, Animal Control and the Police Department. They monitor and clean up the facilities, publicize dog park rules and regulations, and report maintenance needs to the Park Authority.
Users of off-leash dog areas do so at their own risk. Neither Fairfax County nor the Fairfax County Park Authority shall be liable for any injury or damage caused by any dog in the off-leash area.
Operating Hours are 7 a.m. to one half-hour after sunset Monday through Friday. On weekends and federal holidays, the hours are 8 a.m. to one half-hour after sunset.